Catalogs

>

Resting electrocardiograph ECG-D12-10SI
Catalog excerpts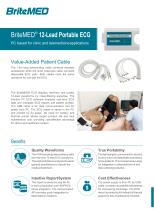 BriteMED® 12-Lead Portable ECG PC based for clinic and telemedicine applications Value-Added Patient Cable The 1.5m long banana-plug cable connects reusable accessories while the short snap-type cable connects disposable ECG pads. Both cables have the same connector for use with the ECG. The BriteMED® ECG displays real-time and quality 12-lead waveforms by noise-filtering expertise. The intuitive PC ECG software analyzes real-time ECG data and manages ECG reports and patient profiles. The USB cable is for data communication and 5V power from PC. The ECG report is saved in the PC and printed by A4 paper. No need for battery and thermal printer allows longer product life and less maintenance cost, providing cost-effective advantage for clinics and healthcare centers. Quality Waveforms The 1000 sampling rate enables quality and real-time 12-lead ECG waveforms. The captured data is analyzed to assist general practitioners to decide the medical treatment. True Portability The light weight is convenient for doctors to carry out to visit bedridden and elderly home patients. The compact size is easy for integration in telemedicine kit and tele-cardiology solution. Intuitive Report System The report is saved as png file for e-mail consultation and HIS/PACS server integration. The communication API provides quick integration to telemedicine solutions. Cost Effectiveness The power supply is from PC by USB cable, no need to buy additional batteries for cost-saving advantage. The ECG report is printed by A4 instead of thermal papers for less maintenance troubles.
Open the catalog to page 1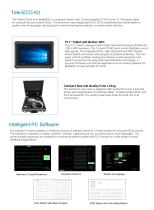 Intelligent PC Software The software is easily installed on Windows devices to interpret real-time 12-lead waveforms, and save ECG records. The interface is selected in English, Spanish, Chinese, Japanese and can be customized to local languages. The communication protocols are provided to synchronize patient profiles and ECG records to a wide range of smart healthcare applications. Real-Time ECG Waveforms Waveform Zoom-In ECG Analysis Report System & Language Britemed Technology Inc. 3F., No.306/306-3, Sec. 1, Datong Rd., Xizhi Dist., New Taipei City 22146, Taiwan TEL: +886-2-86919498 FAX:...
Open the catalog to page 2
All BriteMED Technology catalogs and technical brochures

Compare up to 10 products