Catalogs

>

CMC-assist
Catalog excerpts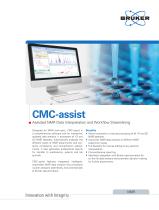 CMC-assist• Assisted NMR Data Interpretation and Workflow Streamlining Benefits ■ Allows automatic or manual processing of all 1D and 2D NMR datasets ■ Automatic NMR data analysis of different NMR experiment types ■ Full flexibility for manual editing of any spectral interpretation ■ Comprehensive reporting ■ Seamless integration with Bruker spectrometers for on-the-fly data analysis and automatic decision-making for further experiments Designed for NMR end-users, CMC-assist is a comprehensive software tool for interactive, assisted data analysis. It processes all 1D and 2D NMR datasets, automatically analyses the different types of NMR experiments and conducts consistency and concentration assessments. It also generates professional reports for transfer to publications, patents and lab journals. CMC-assist features integrated, intelligent, automated NMR data analysis that processes routine analyses seamlessly and automatically at Bruker spectrometers.
Open the catalog to page 1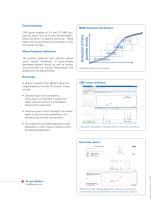 CMC-assist enables all 1D and 2D NMR processing steps such as Fourier transformation, phase correction or baseline correction. These steps may be performed automatically or may be refined manually. Manual analysis refinement The intuitive graphical user interface allows quick manual refinement of automatically generated analysis results as well as facilitating convenient full manual interpretation and assignment via drag-and-drop. Reduction of false positive results Data processing 1D 13C HMBC HSQC 1D Proton NMR Data used for the analysis Reporting A variety of reports with different focus...
Open the catalog to page 2
All Bruker Daltonics Inc. catalogs and technical brochures

Archived catalogs

Compare up to 10 products