Catalogs

>

NewLife Elite Cutsheet (ML-CONC0085)
Catalog excerpts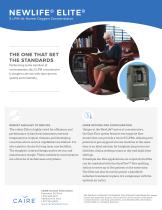 THE ONE THAT SET THE STANDARDS Performing in the harshest of environments, this 5 LPM concentrator is simple to service with time-proven quality and reliability. ROBUST AND EASY TO SERVICE The robust Elite is highly-rated for efficiency and performance in harsh environments, extreme temperatures, tropical climates, and developing countries where service capabilities are limited. It is also a perfect choice for long term care facilities. The simplistic internal design makes service and maintenance simple. These workhorse concentrators are a favorite of technicians everywhere. MORE OPTIONS FOR CONFIGURATION Unique to the NewLife® series of concentrators, the Dual Flow option features two separate flow meters that can provide a total of 5 LPMs. Allowing two patients to get oxygen from one machine at the same time is an ideal solution for hospitals, long term care facilities, clinics, waiting rooms, or day and night time settings. If multiple low flow applications are required, the Elite can be combined with the SureFlow™ flow splitting station to serve up to five patients at the same time. The Elite can also be used to power a handheld nebulizer treatment in place of a compressor with the optional air outlet. CAIRE Contact Information: Providers Toll Free 1.800.482.2473 Patients Toll Free 1.877.704.0878 www.cairemedical.com SEE PRODUCT WARRANTY STATEMENT FOR COMPLETE INFORMATION. Please consult the applicable product instructions for use for product indications, contraindications, warnings, precautions, and detailed safety information. © 2018 CAIRE Inc. All Rights Reserved.
Open the catalog to page 1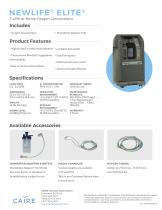 NEWLIFE® ELITE® 5 LPM At Home Oxygen Concentrator Includes - 02 CONCENTRATION MAXIMUM TUBING OPERATING ENVIRONMENT -4° to 140°F (-20° to 60°C), 15-95% humidity STORAGE ENVIRONMENT -4 to 140°F (-20 to 60°C) 15-95% humidity • Oxygen Concentrator DIMENSIONS 28.5 x 15.7 x 14.5 in (72.4 x 40.0 x 36.8 cm) WEIGHT 54 lbs (24.5 kg) SOUND LEVEL 48 dB(A) (Typical) Humidifier Adaptor Tube • Lockable flow meter • Dual flow option • Dual function hour meter • Optional Oxygen Monitor MAINTENANCE SCHEDULE Felt Filter (230 V only) -1 Year Replacement Intake Filter - Clean Weekly WARRANTY 3 Years Available...
Open the catalog to page 2
All CAIRE Medical catalogs and technical brochures

Compare up to 10 products