Catalogs

>

CR-2 PLUS
Catalog excerpts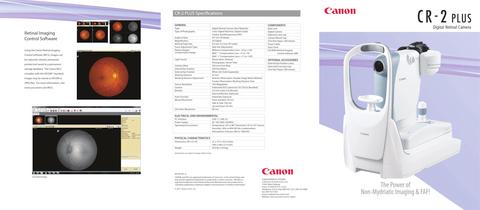 CR-2 PLUS Specifications GENERAL Retinal Imaging Control Software Using the Canon Retinal Imaging Control Software (RICS), images can be captured, viewed, processed, printed and saved to a permanent storage database. The Canon RICS complies with the DICOM® Standard. Images may be stored as DICOM or JPEG files. For more information, visit www.usa.canon.com/RICS. Type Type of Photography Angle of View Magnification Minimal Pupil Size Focus Adjustment Type Patient Diopter Compensation Range Light Source Canthus Mark Internal Eye Fixation External Eye Fixation Working Distance Working Distance Adjustment Sensor Resolution Camera Monitor Auto Function Mount Movement Chin Rest Movement Digital Retinal Camera, Non-Mydriatic Color, Digital Red-Free, Digital Cobalt, Fundus Autofluorescense (FAF) 45º (35º SP Mode) 2X Digital 4.0 mm (3.3 mm SP mode) Split-line Adjustment Without Compensation Lens: -10 to +15D With "-" Compensation Lens: -31 to -7D With "+" Compensation Lens: +11 to +33D Observation: Infrared Photography: Xenon Tube 420 mm From Base LED Dot Matrix White LED (Sold Separately) 35 mm Anterior Observation: Double Image Match Method Fundus Observation: Working Distance Dots 18.0 Megapixels Dedicated EOS Camera for CR-2 PLUS (Bundled) 3.0 inch Color LCD Monitor External Monitor (Optional) Automatic Exposure Front and Back 70 mm Side to Side 100 mm Up and Down 30 mm 60 mm COMPONENTS Main Unit Digital Camera Objective Lens Cap Camera Mount Cap Chin Rest Paper (100 sheets) Power Cable Dust Cover CD-ROM (Retinal Imaging Control Software NM) OPTIONAL ACCESSORIES External Eye Fixation Lamp Hard-shell Carrying Case Chin Rest Paper (500 sheets) ELECTRICAL AND ENVIRONMENTAL PC Interface Power Supply Operating Environment USB 1.1, USB 2.0 AC 100-240V, 50/60Hz Temperature: 50º to 86º Fahrenheit (10º to 35º Celsius) Humidity: 30% to 90% RH (No Condensation) Atmospheric Pressure: 800 to 1060 hPa PHYSICAL CHARACTERISTICS Dimensions (W x D x H) Weight 12 x 19.7 x 20.2 inches (305 x 500 x 513 mm) 43.9 lbs (19.9 kg) Specifications are subject to change without notice. EB-020 Rev. A Simulated Images CANON and EOS are registered trademarks of Canon Inc. in the United States and may also be registered trademarks or trademarks in other countries. DICOM is a registered trademark of the National Electrical Manufacturers Association for its standards publications relating to digital communications of medical information. © 2011 Canon U.S.A., Inc. CANON MEDICAL SYSTEMS A Division of Canon U.S.A., Inc. 15955 Alton Parkway Irvine, CA 92618-3731, U.S.A. Telephone: (U.S.A only): 800-970-7227, 949-753-4000 Fax: 949-753-4164 Email: ecsales@cusa.canon.com Website: www.usa.canon.com/cr-2plus The Power of Non-Mydriatic Imaging & FAF!
Open the catalog to page 1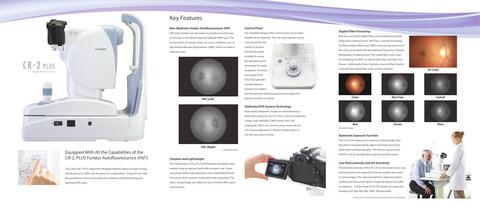 Key Features Non-Mydriatic Fundus Autofluorescence (FAF) Control Panel FAF helps monitor macular waste (e.g. lipofuscin) which can The simplified design of the control panel can be easily accumulate in the Retinal Pigment Epithelial (RPE) layer. The handled by an examiner. The one-hand joystick may be accumulation of macular waste can cause conditions such as used to position the Age-Related Macular Degeneration (AMD), which can lead to camera to acquire reduced vision. the desired image. In darkly lit rooms, the operation panel illuminates for easier navigation. The short Digital Filter...
Open the catalog to page 2
All Canon Medical System U.S.A catalogs and technical brochures

Compare up to 10 products