Catalogs

>

CR-2
Catalog excerpts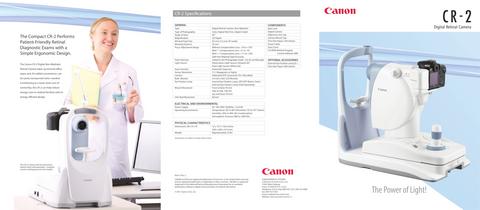 CR-2 Specifications GENERAL The Compact CR-2 Performs Patient-Friendly Retinal Diagnostic Exams with a Simple Ergonomic Design. The Canon CR-2 Digital Non-Mydriatic Retinal Camera takes up minimal office space and, for added convenience, can be easily transported when needed. Contributing to a lower total-cost-ofownership, the CR-2 can help reduce Type Type of Photography Angle of View Magnification Minimal Pupil Size Working Distance Focus Adjustment Range Flash Intensity Light Source Auto Function Sensor Resolution Camera Built- Monitor Eye Fixation Lamp Mount Movement energy costs in medical facilities with its energy-efficient design. Chin RestMovement Digital Retinal Camera, Non-Mydriatic Color, Digital Red-Free, Digital Cobalt 45º 2X Digital 4.0 mm (3.3 mm SP mode) 35 mm Without Compensation Lens: -10 to +15D With "-" Compensation Lens: -31 to -7D With "+" Compensation Lens: +11 to +33D Split-line Aligning Type Focusing Linked to the Photography mode. Can be set Manually Observation Light Source: Infrared LED Flash Light Source: White LED Automatic Exposure 15.1 Megapixels or higher Dedicated EOS Camera for CR-2 (Bundled) 3.0 inch Color LCD Monitor Internal Eye Fixation Lamp, LED DOT Matrix, Green External Eye Fixation Lamp (Sold Separately) Front to Back 70 mm Side to Side 100 mm Up and Down 30 mm 60 mm COMPONENTS Main Unit Digital Camera Objective Lens Cap Camera Mount Cap Chin Rest Paper (100 sheets) Power Cable Dust Cover CD-ROM (Retinal Imaging Control Software NM) OPTIONAL ACCESSORIES External Eye Fixation Lamp EL-1 Chin Rest Paper (500 sheets) ELECTRICAL AND ENVIRONMENTAL Power Supply Operating Environment AC 100-240V, 50/60Hz, 1 to 0.4A Temperature: 50º to 86º Fahrenheit (10º to 35º Celsius) Humidity: 30% to 90% (No Condensation) Atmospheric Pressure: 800 to 1060 hPa PHYSICAL CHARACTERISTICS Dimensions (W x D x H) Weight 12 x 19.7 x 18.6 inches (305 x 500 x 473 mm) Approximately 33 lbs Specifications are subject to change without notice. The CR-2 is shown with the external eye fixation lamp (sold separately). Computer monitor and keyboard are not included. EB-017 Rev. C CANON and EOS are registered trademarks of Canon Inc. in the United States and may also be registered trademarks or trademarks in other countries. DICOM is a registered trademark of the National Electrical Manufacturers Association for its standards publications relating to digital communications of medical information. © 2011 Canon U.S.A., Inc. CANON MEDICAL SYSTEMS A Division of Canon U.S.A., Inc. 15955 Alton Parkway Irvine, CA 92618-3731, U.S.A. Telephone: (U.S.A only): 800-970-7227, 949-753-4000 Fax: 949-753-4164 Email: ecsales@cusa.canon.com Website: www.usa.canon.com/cr-2 The Power of Light!
Open the catalog to page 1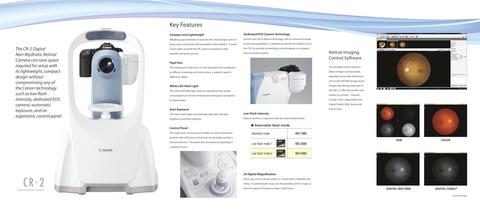 Non-Mydriatic Retinal Camera can save space required for setup with design without camera, automatic ergonomic control panel. Weighing approximately 33 pounds, the small design saves on setup space and assists with portability when needed. A small Canon table can hold the CR-2 and a computer to help expedite the exam process. Pupil Size The small pupil mode has a 3.3 mm diameter that contributes to efficient screening and assists when a patient's pupil is White LED Flash Light The white LED flash light saves on operating costs, power consumption and lessens maintenance frequency compared...
Open the catalog to page 2
All Canon Medical System U.S.A catalogs and technical brochures

Compare up to 10 products