Catalogs

>

flyer RICS
Catalog excerpts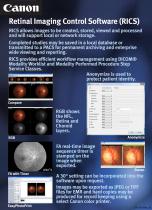 Retinal Imaging Control Software (RICS) RICS allows images to be created, stored, viewed and processed and will support local or network storage. Completed studies may be saved in a local database or transmitted to a PACS for permanent archiving and enterprise wide viewing and reporting. RICS provides efficient workflow management using DICOM® Modality Worklist and Modality Performed Procedure Step Service Classes. protect patient identity. Middle Name mage when A 30° setting can be incorporated into the software upon request.
Open the catalog to page 1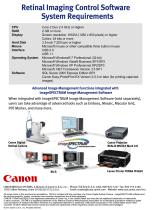 Retinal Imaging Control Software System Requirements Screen resolution: WXGA (1280 x 800 pixels) or higher Colors: 24 bits or more Microsoft mouse or other compatible three button mouse Microsoft Windows® 7 Professional (32-bit) Microsoft Windows Vista® Business SP1/SP2 Microsoft Windows XP Professional SP2/SP3 Microsoft .NET Framework Version 3.5 SP1 SQL Server 2005 Express Edition SP3 Canon Easy-PhotoPrint EX Version 2.0.0 or later (for printing captured Advanced Image Management Functions integrated with imageSPECTRUM Image Management Software When integrated with imageSPECTRUM Image...
Open the catalog to page 2
All Canon Medical System U.S.A catalogs and technical brochures

Compare up to 10 products