Catalogs

>

CEABIS

>

LIQUID ASPIRATION
Catalog excerpts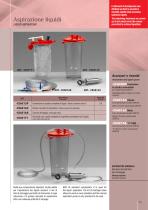 I trattamenti di tanatoprassi sono effettuati nei limiti e secondo le modalità stabilite dalla normativa nazionale vigente. The embalming treatments are carried out to the extent and in the manner prescribed by national legislation. Aspirazione liquidi LIQUID ASPIRATION Accessori e ricambi Accesories and spare parts Capacità Capacity Contenitore in plastica completo di tappo / Plastic container with lid Pompa manuale di aspirazione / Manual pump for aspiration Tubi per drenaggio / Drainage tubes Sacchetto usa e getta completo di coperchio (confezione da 6 pezzi) Liner with cover (per 6) -CEAE009 Contenitore in plastica estensibile per contenimento CEAE163 Extendible plastic container to contain CEAE163 2 per ogni pompa manuale CEAE163 Valve 2 for every manual pump CEAE163 2 per ogni pompa manuale CEAE163 Spring 2 for every manual pump CEAE163 2 per ogni pompa manuale CEAE163 "0" Ring 2 for every manual pump CEAE163 ASPIRATORE MANUALE Esempio dimostrativo del montaggio Manual aspirator Assembly example Nella sua composizione standard, risulta adatto per l'aspirazione dei liquidi corporei. Il set di tubi di drenaggio permette di intervenire in ogni situazione e la pompa manuale di aspirazione offre una notevole praticità di impiego. With its standard composition it is used for the liquid aspiration. The kit of drainage tubes allows to work in every situation and the manual aspiration pump is very practical to be
Open the catalog to page 1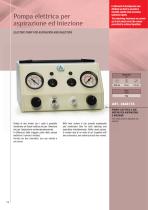 Pompa elettrica per aspirazione ed iniezione I trattamenti di tanatoprassi sono effettuati nei limiti e secondo le modalità stabilite dalla normativa nazionale vigente. The embalming treatments are carried out to the extent and in the manner prescribed by national legislation. ELECTRIC PUMP FOR ASPIRATION AND INJECTION Dimensioni Size ART. -CEAE176 POMPA ELETTRICA A DUE MOTORI PER ASPIRAZIONE E INIEZIONE Dotata di due motori con i quali è possibile mantenere un flusso continuo sia per l'iniezione che per l'aspirazione contemporaneamente. A differenza della maggior parte delle pompe...
Open the catalog to page 2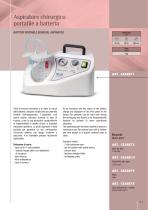 Aspiratore chirurgico portatile a batteria BATTERY PORTABLE SURGICAL ASPIRATOR Dimensioni Size Tutte le funzioni operative e lo stato di carica della batteria, vengono visualizzate sul pannello frontale dell'apparecchio. L'aspiratore può anche essere utilizzato durante la fase di ricarica, e per le sue particolari caratteristiche di trasportabilità, è adatto all'uso in aualsiasi situazione operativa. La parte aspirante è stata studiata per garantire un uso continuativo, l'involucro esterno, dal design moderno e piacevole, è in materiale plastico facilmente sanificabile. Dotazione di serie:...
Open the catalog to page 3
All CEABIS catalogs and technical brochures

Archived catalogs

Compare up to 10 products