Catalogs

>

Cervical and Lumbar Home Traction Get to the Root
Catalog excerpts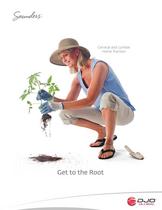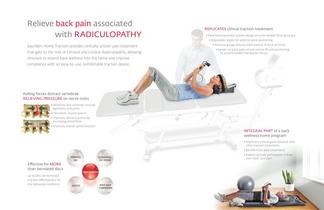 Relieve back pain associated with RADICULOPATHY Saunders Home Traction provides clinically-proven pain treatment that gets to the root of Cervical and Lumbar Radiculopathy, allowing REPLICATES clinical traction treatment • Patented pneumatic system design ensures reliable force accuracy • Adjustable angles for optimal spine positioning • Pressure gauge ensures total control of force all times • Swivel occipital pads ensure precise fit and positioning to accommodate therapeutic forces clinicians to extend back wellness into the home and improve compliance with an easy-to-use, comfortable...
Open the catalog to page 2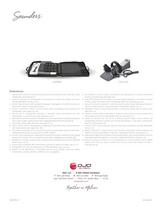 References 1. Nachemson A, Elfstom G. Intravital dynamic pressure measurements in the lumbar discs. Scand J Rehabil Med. 1970;[vol](suppl 1):1. 2. Gupta RC, Ramarao SV. Epidurography in the reduction of lumbar disc prolapse by traction. Arch Phys Med Rehab. 1978;59:322-327. 3. Onel D, Tuzlaci M, Sari H, et al. Computed tomographic investigation of the effect of traction on lumbar disc herniations. Spine. 1989;14:82-90. 4. Komori H, Shinomiya K, Nakai O, et al. The natural history of herniated nucleus pulposus with radiculopathy. Spine. 1996;21:225-229. 5. Saal JA, Saal JS. Nonoperative...
Open the catalog to page 3
All Chattanooga USA catalogs and technical brochures

Archived catalogs

Compare up to 10 products