Catalogs

>

CAP-558
Catalog excerpts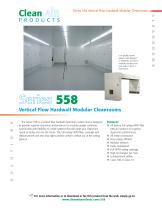 Series 558 Vertical Flow Hardwall Modular Cleanrooms Series 558 The Series 558 is a vertical flow hardwall cleanroom system that is designed to provide superior cleanroom performance. Its modular design combines functionality with flexibility to create systems that will meet your cleanroom needs of today and into the future. The full ceiling HEPA filter coverage with diffuser panels and tear drop lights provide uniform airflow out of the ceiling plenum. Features All feature full-ceiling HEPA filter plenum sections for superior cleanroom performance All metal construction Very energy efficient Modular sections Easily maintained Full HEPA ceiling coverage High air changes per hour Unidirectional airflow Class 100 or Class 10 Vertical Flow Hardwall Modular Cleanrooms For more information or to download or fax this product from the web, simply go to: www.cleanairproducts.com/558 Low profile tunnel section with blowers in sidewalls. Combine multiple sections and end walls to form a cleanroom.
Open the catalog to page 1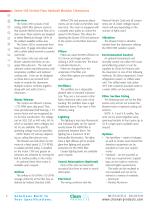 Series 558 Vertical Flow Hardwall Modular Cleanrooms Overview The Series 558 consists of fullceiling, HEPA filter plenum sections that provide filtered laminar flow air to clean areas. These sections are designed to deliver filtered air through 100% of the ceiling's available surface area. The Series 558 is constructed from heavy-duty 16 gage cold-rolled steel with a white baked-enamel or powder coat finish. The Series 558 uses side wall blower cabinets that blow air into upper filter plenums. The side wall cabinets contain start/disconnect, wall receptacles, prefilters and optional cooling...
Open the catalog to page 2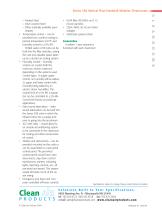 Series 558 Vertical Flow Hardwall Modular Cleanrooms — Painted Steel — Vinyl Covered Steel — Other materials available upon request Temperature control — can be provided from comfort cooling to precise temperature ± 0.5°F and humidity control to ± 2% RH. Chilled water or DX coils can be built into the filter modules, saving the cost and valuable space taken up by a ducted air cooling system. Humidity control – humidity control can control both the minimum and/or maximum depending on the systems used. Control types 1) supply upper control, no humidity will be added, 2) upper and lower...
Open the catalog to page 3
All Clean Air Products catalogs and technical brochures

Compare up to 10 products