Catalogs

>

HORIZONTAL GEL SYSTEMS
Catalog excerpts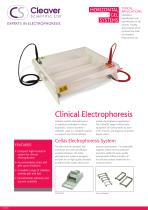 HORIZONTAL GEL SYSTEMS TYPICAL APPLICATIONS Qualitative identification and quantification of Hb variants. Finding abnormalities of Hb synthesis like sickle cell disorders, thalassaemias etc. Clinical Electrophoresis Cellulose acetate electrophoresis is an important technique in clinical diagnostics. Cleaver Scientific's CellasGEL range is a complete solution for research and clinical cellulose acetate electrophoresis applications. The CellasGEL range includes both equipment and consumables to assist in the research and diagnosis of specific disease states. Cellas Electrophoresis System FEATURES: • Compact high resolution system for clinical electrophoresis • Accommodates strips and gels up to 24x20cm • Complete range of cellulose acetate gels and kits • Densitometer software and scanner available The ideal tank for standard 'dry' membrane and 'wet' gel cellulose acetate techniques, the Cellas electrophoresis system is designed and built to our high quality standard to address both routine clinical and research requirements. Two adjustable supports, which can be positioned anywhere within the tank, readily accommodate different lengths of dry cellulose acetate membrane to a maximum 20cm.
Open the catalog to page 1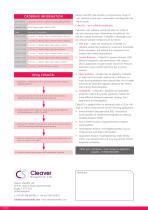 1. Equilibrate a CellasGEL for 10' in electrophoresis buffer using an agitating platform. I 2. Dry surplus buffer from the CellasGEL before securing it to a Bridge located within a pre-prepared Cellas tank. I 3. Apply samples to the CellasGEL using the appropriate Applicator, and electrophorese at 200V for 30-90'. I 4. Remove the CellasGEL from the tank, and use the required Clinical Test Kit for staining and destaining and clearing. I 5. Place the CellasGELon a suitably sized mylar sheet or glass plate and dry in an oven for 10' at 80°C. I 6. Quantify bands using Scanner and Densitometer...
Open the catalog to page 2
All Cleaver Scientific catalogs and technical brochures
Compare up to 10 products