Catalogs

>

The fume cupboard GS1000/Standard
Catalog excerpts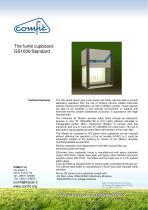 Technical features The GS series bench-type fume hoods are safety devices able to protect laboratory operators from the risk of inhaling harmful volatile chemicals directly recycling the laboratory air with a filtration system. These devices are able to be installed in any working environment, to capture and eliminate harmful volatile substances at source, in accordance with legal requirements. The molecular air filtration process takes place through an adsorption process in size "B" (450x600x100 H mm) highly efficient activated or impregnated carbon filters. Preliminary filtration to remove dust has carried on with one or more size "B" (450x600 mm) dust cover. The unit is also able to equip additional safety filters downstream of the main filter. The filtered air extracted by GS series fume cupboards can be recycled without affecting the operation of the air handler (HVAC) or it could be exhausted outside of the building by means of the 250mm diameter manifold supplied as standard. COMFIT srl Via Viberti, 4 10141 Torino TO Tel. +39011720085 Fax.+39011728870 comfit@tiscali.it www.comfit.org Routine inspection and replacement of the filter and pre-filter are extremely simple and safe. GS-series fume cupboards frame is manufactured with epoxy polyester (colour RAL7035) coated steel plate and epoxy paint finished aluminium uprights (colour RAL7015). The sides and front sash are in 3 mm layered safety glass. They are fitted as standard with an electronically controlled centrifugal fan. The internal back baffle is manufactured in 6mm thick acid-resistant white laminate. All our GS series fume cupboards comply with: -CE Mark under 2006/42/EEC Machinery Directive -2006/95/EEC Low Voltage Directive Subject to change without notice the technical characteristics of the products shown. All rights reserved. COMFIT sas, 05/2014 Aria nuova in laboratorio...
Open the catalog to page 1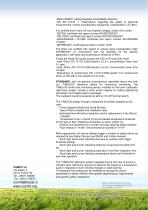 -2004/108/EEC Electromagnetic Compatibility Directive -CEI EN 61010 -1 Prescriptions regarding the safety of electrical measurement, control and laboratory equipment, Classification C.E.I.66.5 It is certified from Invent UK Ltd, Imperial College London (UK) under: -BS7258, certificate test report number INV/BS7258/261 -DIN 12924, certificate test report number INV/DIN12924/261 -ANSI/ASHRAE 110/1995, certificate test report number INV/ASHRAE 110/263 -BS7989/2001, certificate test report number 13/02 The filters are certified with regard to various types impregnated under BS7989/2001 (in...
Open the catalog to page 2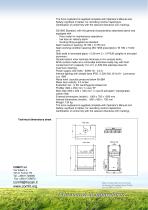 The fume cupboard is supplied complete with Operator's Manual and Safety Log Book in Italian, for recording routine inspections. Certification of conformity with the relevant directives (CE marking). GS1000 Standard: with the general characteristics described above and equipped with - Hour meter for maintenance operations - low face air velocity alarm - Ducting fitting supplied as standard Sash maximum opening: W 780 x H 750 mm Sash working condition opening (BS 7258 prescription): W 780 x H 400 mm. Side walls in laminated glass + 0.38 mm 3 + 3 PVUB uprights in extruded aluminum. Double...
Open the catalog to page 3
All Comfit s.r.l catalogs and technical brochures

Compare up to 10 products