Catalogs

>

Interactive system of taping iONYX-VIDEOPAT
Catalog excerpts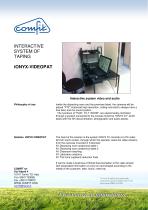 INTERACTIVE SYSTEM OF TAPING iONYX-VIDEOPAT Philosophy of use Inside the dissecting room and the premises listed, the cameras will be placed "PTZ" motorized high resolution, ceiling-mounted to always have a free field, and the sound system. The functions of "PAN", TILT "ZOOM", are electronically controlled through a joystick connected to the console OnlyOne "iONYX D1" which deals with the film documentation, photographic and audio assets. Sistema iONYX-VIDEOPAT The heart of the solution is the system iONYX D1 consists of a PC video 22-inch touch-screen, through which the operator views the video streams from the cameras mounted in motorized: N1 Dissecting room anatomical table 1 N1 Dissecting room anatomical table 2 N1 Classroom teaching N1 Laboratory anatomy N1 The fume cupboard reduction finds COMFIT srl Via Viberti 4 10141 Torino TO- Italy Tel +39011720085 Fax +39011728870 WWW.COMFIT.ORG comfit@tiscali.it It can be made a business of filmed documentation of the video stream with associated information of a text on card shaped according to the needs of the customer, date, hours, notes etc. Con riserva di modifies senza preavviso delle caratteristiche teeniche dei prodotti illustrati. Tutti i diritti riservati. COMFIT srl, 10/2015
Open the catalog to page 1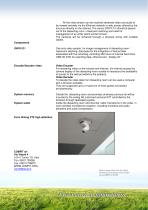 All the video stream can be received streamed video and audio to be viewed remotely via the Ethernet network or web access offered by the structure directly on the internet. The consol ONYX D1 should be placed out of the dissecting room / classroom teaching and need for management of an entity which will be formed. The cameras will be achieved through a physical wiring with suitable cables. Components iONYX D1 One only video system, for image management of dissecting room / classroom teaching, data base for the integration of textual data associated with the recording, recording 300...
Open the catalog to page 2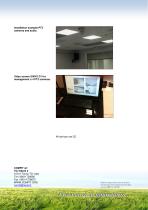 Installation example PTZ cameras and audio. Video screen iONYX D1 for management n 4 PTZ cameras. COMFIT srl Via Viberti 4 10141 Torino TO- Italy Tel +39011720085 Fax +39011728870 WWW.COMFIT.ORG comfit@tiscali.it Subject to change without notice the technical characteristics of the products shown. All rights reserved. COMFIT srl, 05/2014 Aria nuova in laboratorio...
Open the catalog to page 3
All Comfit s.r.l catalogs and technical brochures

Compare up to 10 products