Catalogs

>

4, 6,10 Shooter™ SAEED MULTI-BAND LIGATOR
Catalog excerpts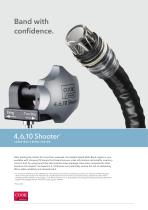 Band with confidence. After leading the market for more than a decade, the reliable Saeed Multi-Band Ligator is now available with Universal-fit barrels that streamline your order information and simplify inventory control. And, by using bands that demonstrate lower slippage rates when compared to other bands on the market1, the Saeed 4, 6, 10 Shooter can potentially reduce the risk of rebleeding. We've taken reliability and streamlined it. 1 "In-vitro bench studies have shown differences in the resting inner diameters and radial retraction force of bands on different ligation devices. The larger resting inner diameter and a significantly lower retraction force in neoprene bands, compared to rubber bands predisposed these bands to early slippage." J. M. Polski, E. M. Brunt, Z. A. Saeed (2001). Chronology of Histological Changes after Band Ligation of Esophageal Varices in Humans. Endoscopy, 33, 443-447.
Open the catalog to page 1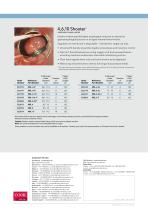 4,6,10 Shooter™ SAEED MULTI-BAND LIGATOR Used to endoscopically ligate esophageal varices at or above the gastroesophageal junction or to ligate internal hemorrhoids. Supplied non-sterile and is disposable - intended for single use only. • Universal-fit barrels streamline ligation procedures and inventory control • Opti-Vu® barrel features two-string trigger cord and recessed bands -providing maximum endoscopic view while maintaining suction • Clear band signals when only one band remains to be deployed • Wide array of barrel sizes to meet a full range of procedural needs "The larger...
Open the catalog to page 2
All COOK Medical catalogs and technical brochures

Archived catalogs

Compare up to 10 products