Catalogs

>

EchoTip®
Catalog excerpts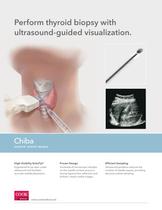 Perform thyroid biopsy with ultrasound-guided visualization. Illustration by Lisa Clark High-Visibility EchoTip® Proven Design Efficient Sampling Engineered to be seen under ultrasound and facilitate accurate needle placement. Hundreds of microscopic dimples on the needle surface ensure a strong hyperechoic reflection and brilliant, clearly visible images. Ultrasound guidance reduces the number of needle passes, providing decisive nodule sampling.
Open the catalog to page 1
CHIBA ECHOTIP® BIOPSY NEEDLE Learn more about ultrasound-guided fine needle aspiration. Resources 1. Robitschek J, Straub M, Wirtz E, et al. Diagnostic efficacy of surgeonperformed ultrasound-guided fine needle aspiration: a randomized controlled trial. Otolaryngol Head Neck Surg. 2010;142(3):306-309. 2. Seiberling KA, Dutra JC, Gunn J. Ultrasound-guided fine needle aspiration biopsy of thyroid nodules performed in the office. Laryngoscope. 2008;118(2):228-231. 3. Nichols K, Wright LB, Spencer T, et al. Changes in ultrasonographic echogenicity and visibility of needles with changes in...
Open the catalog to page 2
All COOK Medical catalogs and technical brochures

Archived catalogs

Compare up to 10 products