Catalogs

>

Soft on tissue, strong on results
Catalog excerpts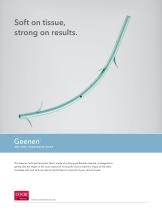 Soft on tissue, strong on results. The Geenen Sof-Flex Pancreatic Stent, made of a strong yet flexible material, is designed to gently take the shape of the duct instead of forcing the duct to take the shape of the stent. Available with and without internal ductal flaps to meet all of your clinical needs.
Open the catalog to page 1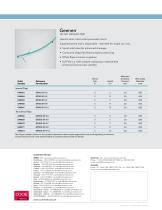 Used to drain obstructed pancreatic ducts. Supplied sterile and is disposable – intended for single use only. • Spiral side holes for enhanced drainage • Contoured shape facilitates proper positioning • Offset flaps minimize migration • Sof-Flex is a "soft" pliable radiopaque material that enhances fluoroscopic visibility Order Number Reference Part Number Minimum Accessory Channel mm Wire Guide Diameter inch Not all part numbers shown on this product information sheet may be approved for sale in all regulatory jurisdictions. Consult with your local Cook representative or customer service...
Open the catalog to page 2
All COOK Medical catalogs and technical brochures

Archived catalogs

Compare up to 10 products