Catalogs

>

Ureteral Stent Drainage
Catalog excerpts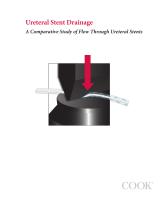 Ureteral Stent Drainage Although many variables may affect ureteral flow-rates, these results indicate that the Cook Resonance Metallic Stent A Comparative Study of Flow Through Ureteral Stents offers superior flow-rates over plastic stents under comparable extrinsic compression testing conditions. While the flow-through for each of the plastic stents was virtually stopped when 40 Newton (8.99 lbf) extrinsic force was applied, the Resonance Metallic Stent maintained its flow-rate up to approximately 1000 Newtons (224.81 lbf) of extrinsic compression. Approximately 25 times more force was required to occlude the Resonance Metallic Stent as compared to the plastic stents tested. Additional clinical testing is necessary to determine the relevance of extrinsic compression and the levels of extrinsic force that can be attained under various disease states. Trademarks: Endo-Sof™ and Resonance™ are trademarks of Cook Urological, Inc. Percuflex® is a trademark of Boston Scientific Corporation. InLay® is a trademark of C.R. Bard, Inc.. 1 P.Rotariu, P.Yohannes, M. Alexianu, D.Rosner, B.R. Lee, M. Smith, A.D. Smith, "Management of malignant extrinisic compression of the ureter by simultaneous placement of two ipsilateral ureteral stents," Journal of Endourology 10, (Dec 15, 2001): 979-83. Distributed by: COOK MEDICAL INCORPORATED P.O. Box 4195, Bloomington, IN 47402-4195 USA Phone: 812 339-2235, Toll Free: 800 457-4500, Toll Free Fax: 800 837-4130 COOK IRELAND LTD. O'Halloran Road, National Technology Park Limerick, IRELAND, Phone: 353 61 334440, Fax: 353 61 334441 COOK (CANADA) INC. 111 Sandiford Drive, Stouffville, Ontario, L4A 7X5 CANADA Phone: 905 640-7110, Toll Free: 800 668-0300, Fax: 905 640-6804 WILLIAM A. COOK AUSTRALIA PTY. LTD. Brisbane Technology Park, 12 Electronics Street, Eight Mile Plains Brisbane, QLD 4113 AUSTRALIA, Phone: 61 7 3841 1188 © COOK UROLOGICAL INCORPORATED 2006
Open the catalog to page 1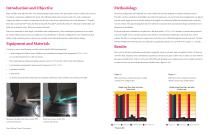 Many variables may affect the flow-rate of fluid through ureteral stents. One particularly crucial variable is the amount Each stent configuration was deployed into a thin-walled silicone tube designed to simulate the human ureter. of extrinsic compression applied to the stents. The following white paper presents results of a study conducted to The tube was then attached to the distilled water tank. During the test, one end of each stent configuration was placed compare the effects of extrinsic compression on the flow-rates of four ureteral stents: the Cook Resonance ™ Metallic into the...
Open the catalog to page 2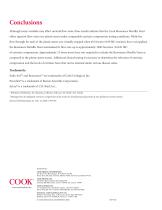 Ureteral Stent Drainage Although many variables may affect ureteral flow-rates, these results indicate that the Cook Resonance Metallic Stent A Comparative Study of Flow Through Ureteral Stents offers superior flow-rates over plastic stents under comparable extrinsic compression testing conditions. While the flow-through for each of the plastic stents was virtually stopped when 40 Newton (8.99 lbf) extrinsic force was applied, the Resonance Metallic Stent maintained its flow-rate up to approximately 1000 Newtons (224.81 lbf) of extrinsic compression. Approximately 25 times more force was...
Open the catalog to page 3
All COOK Medical catalogs and technical brochures

Archived catalogs

Compare up to 10 products