Catalogs

>

the Vascular Retrieval Forceps
Catalog excerpts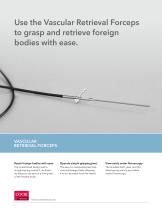 Use the Vascular Retrieval Forceps to grasp and retrieve foreign bodies with ease. VASCULAR RETRIEVAL FORCEPS Reach foreign bodies with ease. Operate simple gripping jaws. View easily under fluoroscopy. The streamlined design with a straight spring-coiled 2 cm distal tip helps you to secure a firm grasp of the foreign body. The easy-to-manipulate jaws lock onto the foreign body, allowing it to be removed from the vessel. The braided shaft, jaws, and the distal spring-coil tip are visible under fluoroscopy.
Open the catalog to page 1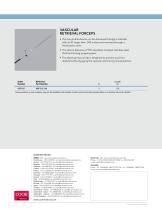 VASCULAR RETRIEVAL FORCEPS • The low-profile device can be delivered through a catheter with an ID larger than .045 inches and inserted through a hemostasis valve. • The device features a PTFE-sheathed, braided stainless steel shaft and strong gripping jaws. • The distal spring-coil tip is designed to prevent you from inadvertently engaging the vascular wall during manipulations. Order Number Reference Part Number Some products or part numbers may not be available in all markets. Contact your local Cook representative or Customer Service for details. Customer Service EMEA:  EDI –...
Open the catalog to page 2
All COOK Medical catalogs and technical brochures

Archived catalogs

Compare up to 10 products