Catalogs

>

Covidien

>

sonarmed
Catalog excerpts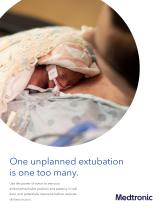 One unplanned extubation is one too many. Use the power of sonar to see your endotracheal tube position and patency in real time, and potentially intervene before neonate distress occurs.
Open the catalog to page 1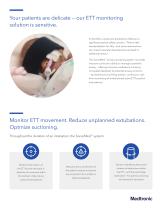 Your patients are delicate — our ETT monitoring solution is sensitive. In the NICU, unplanned extubations (UEs) are a significant patient safety concern.1 There's little standardization for UEs,2 and some interventions can impact neonatal development and lead to additional stress.3 The SonarMed™ airway monitoring system may help improve a clinician's ability to manage a patient's airway ― offering clinicians confidence in having immediate feedback to potential airway concerns ― by assisting in providing precise, continuous, real- time monitoring of endotracheal tube (ETT) position and...
Open the catalog to page 2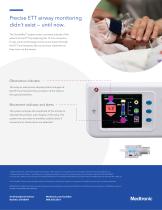 Precise ETT airway monitoring didn't exist — until now. The SonarMed™ system sensor connects outside of the patient to the ETT by replacing the 15 mm connector. It uses sonar technology to emit sound waves through the ETT and measures the sound wave intensities as they return to the sensor. Obstruction indicator The easy-to-read screen displays status changes of the ETT and monitors the correction of the tube to the optimal baseline. Movement indicator and alerts The system analyzes the amplitude of the echoes to estimate the position and integrity of the tube. The system then provides...
Open the catalog to page 3
All Covidien catalogs and technical brochures
Compare up to 10 products