Catalogs

>

ComboCare
Catalog excerpts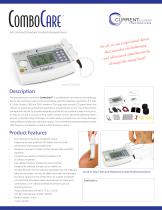 A Roscoe Medical Company An E-Stim and Ultrasound Combo Professional Device evice essional d ne prof apy n all-in-o A lectrother ides e that prov eously simultan sound ead! and ultra e sound h h through t Description The microprocessor controlled ComboCareTM is a professional two-channel electrotherapy device that combines clinical ultrasound therapy with five treatment waveforms: IF 4-Pole, IF 2-Pole, Russian, EMS and TENS waveform. The large easy-to-read LCD panel allows the clinician to quickly set up treatment parameters. A dual frequency 5 cm2 sound head comes standard with the unit. Its portable design lets you take it to your patient or keep it at the clinic. It's easy to use and is up and running within minutes. And its advanced operating system ensures a complete range of therapy no matter where you use it! You can choose between several different amplitude modulation options. The interferential and premodulated modes offer frequency modulation as well as a static frequency option. Product Features • • • • • • • • Two channels of electrical stimulation output Large easy-to-read graphical LCD display with exact dial performance and programmable timer Waveforms include: IF 4-Pole, IF 2-Pole, Russian, EMS and TENS waveform 10 presets per waveform totaling 50 presets in all 20 ultrasound presets User-defined memory positions for user protocols Designed for tabletop, therapy cart or mobile use Includes four (50 x 50 mm) adhesive electrodes, four (50 x100 mm) adhesive electrodes, two sets of rubber electrodes with sponges, two elastic straps, two sets of lead wires, AC adapter and power cord, electrical stimulation cable, electrode wire for ultrasound combination, 5 cm2 ultrasound head, transmission gel and operating manual Product dimensions: 9.8" (W) x 7.3 (L) x 3.2 (H) UPC Bar Code Number: 0 92237 60546 2 Product weight: 5.5 lbs 2-year warranty An All-In-One E-Stim and Ultrasound Combo Professional Device Distributed by:
Open the catalog to page 1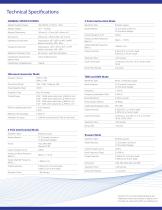 Technical Specifications GENERAL SPECIFICATIONS Adapter Supply Voltage: Waveform Type: Bi-phasic square Adapter Output: Mode Selection: Adapter Dimensions: CC (Constant Current) or CV (Constant Voltage) Operating Environment: Sweep Low Beat Frequency: (Beat H.) Storage Environment: Sweep High Bet Frequency: (Beat L.) Maximum Treatment Time: 60 minutes - electrical stimulation Classification of protection against shock Class II medical device Classification of applied part Frequency (Freq): Treatment Time: Cycle Time (Cycle): Ramp Time (Ramp): Ultrasonic Generator Mode Output Intensity:...
Open the catalog to page 2
All Current Solutions catalogs and technical brochures

Compare up to 10 products