Catalogs

>

Daavlin

>

Daavlin 7-series
Catalog excerpts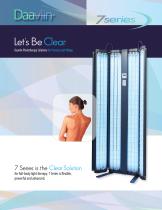 Daavlin Phototherapy Solutions for Psoriasis and Vitiligo 7 Series is the Clear Solution for full-body light therapy. 7 Series is flexible, powerful and advanced.
Open the catalog to page 1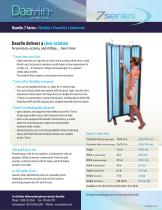 Daavlin 7 Series • Flexible • Powerful • Advanced Daavlin delivers a clear solution for psoriasis, eczema, and vitiligo... here's how: 7 Series clears your skin • Light treatments are typically very brief, and occur about three times a week. • Results vary, but psoriasis symptoms usually begin to show improvement in as little as 6 - 8 treatments; vitiligo commonly begins to re-pigment within about 8 weeks. • This medical device requires a prescription from your doctor. 7 Series offers flexibility and power • Units can be equipped with four, six, eight, ten or twelve lamps. • Four and six...
Open the catalog to page 2
All Daavlin catalogs and technical brochures
Compare up to 10 products