Catalogs

>

Daavlin

>

UV-Series
Catalog excerpts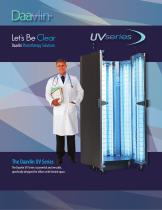 Let's Be Clear Daavlin Phototherapy Solutions The Daavlin UV Series The Daavlin UV Series is powerful and versatile, specifically designed for offices with limited space.
Open the catalog to page 1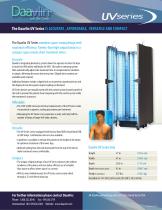 The Daavlin UV Series IS ACCURATE , AFFORDABLE, VERSATILE AND COMPACT Daavlin UV Series Data Height 77 ini (195.6 cm) Depth (with doors open)] 42 ini (106.7 cm) The Daavlin UV Series combines space-saving design with maximum efficiency. Twenty-four high output lamps in a compact space means short treatment times. Accurate Daavlin's integrating dosimetry system allows the operator to enter the dose in Joules for UVA and/or milliJoules for UVB. The built-in metering system then automatically adjusts the treatment time to compensate for variations in output, delivering the exact...
Open the catalog to page 2
All Daavlin catalogs and technical brochures
Compare up to 10 products