Catalogs

>

Comfort Respirator Series
Catalog excerpts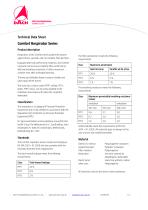 Technical Data Sheet Material Exterior & Interior: Supporting layer: Filter medium: Nose piece: Elastic band: valve case: Product description Respirators of the Comfort series protect the wearer against dusts, aerosols and non-volatile, fluid particles. Equipped with high-performing materials, the Comfort respirator series ensures highest filter performance with low breathing resistance. It offers maximum comfort even after prolonged wearing. The two-part foldable design is easy to handle and saves space when stored. The nose clip is colour coded (FFP1: yellow, FFP2: white, FFP3: blue), can be easily adapted to the individual nose shape and makes the respirator detectable. Classification This respirator is a Category III Personal Protective Equipment and is fully certified in accordance with the Regulation (EU) 2016/425 on Personal Protective Equipment (PPE). EU Type examination and surveillance are performed by BSI Group The Netherlands B.V., Say Building, John Keynesplein 9, 1066 EP, Amsterdam, Netherlands, Notified Body No. 2797. Standards The Comfort respirator series is tested accordingly to EN 149:2001 + A1:2009 and also complies with the voluntary dolomite dust clogging test. The total inward leakage meets the following requirements. The filter penetration meets the following requirements. The breathing resistance meets the following requirements. Inflammability meets the requirements of EN 149: 2001 + A1: 2009: All materials pose no danger to the user and are not readily flammable. Polypropylene nonwoven Polyester nonwoven Polypropylene Iron wire covered by polyethylene, detectable Latex free synthetic rubber Polypropylene All materials used are free from irritant substances. DACH Schutzbekleidung GmbH & Co. KG | www.dach-germany.de
Open the catalog to page 1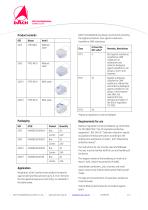 *National regulations must be followed. Packaging Application Respirators of the Comfort series protect the wearer against solid and fluid aerosols up to 4, 10 or 30 times the Occupational Exposure Limit (OEL), as indicated in the table below. Requirements for use National regulations must be followed, eg. DGUV Rule 112-190 (BGR 190) "Use of respiratory protective equipment", BGI 504-26 "Selection criteria for special occupational medical precaution according to the professional association principle", G26 "Respiratory protective devices". The instructions for use must be read and followed....
Open the catalog to page 2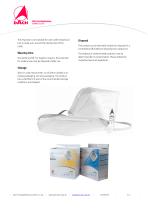 The respirator is not suitable for users with heavy facial hair or deep scars around the sealing lines of the mask. Wearing time One working shift. For hygienic reasons, the respirator for medical use must be disposed of after use. Storage Store in a dry environment, no of direct sunlight in its original packaging, see also packaging. The product has a shelf life of 5 years if the recommended storage conditions are followed. Disposal This product can be thermally recycled or disposed in a controlled landfill without releasing toxic substances. The disposal of contaminated products must be...
Open the catalog to page 3
All DACH Schutzbekleidung catalogs and technical brochures
Compare up to 10 products