Catalogs

>

HEADGEAR
Catalog excerpts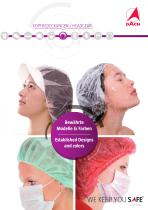 NORMEN & VORSCHRIFTEN / STANDARDS & REGULATIONS Schutzbekleidung für den Reinraum Protective clothing for the cleanroom Die größte Gefahr für einen Reinraum ist der Mensch, der darin arbeitet. Durch jede Bewegung werden von der Kleidung, der Haut und den Haaren Partikel abgelöst und aufgewirbelt. Keine Verhaltensregel kann davor so effektiv schützen wie Reinraumkleidung. Für solche Schutzbekleidung gibt es keine offiziellen Anforderungen, Normen oder Vorschriften, jedoch zahlreiche unabhängige Prüfmethoden, die Schutzkleidung auf ihre Tauglichkeit für die Anwendung im Reinraum testen. The biggest threat to a cleanroom is the human being working in it. With every movement particles from clothing, skin and hair are shed and whirled up. No codes of conduct can protect against this as effectively as cleanroom clothing. For such protective clothing, there are no official requirements, standards or regulations, but numerous independent testing methods, with which protective clothing has been tested for its suitability in cleanrooms. Der Helmke Drum Test, nach IEST-RP-CC003.3, prüft die Partikelemission von Kleidungsstücken unter sehr starker mechanischer Beanspruchung im trockenen Zustand. Dies stellt sicher, dass die Schutzbekleidung auch unter starker Beanspruchung, wie etwa der andauernden Bewegung des Trägers, nur eine geringe Partikelemission aufweist. Zum Test wird das Kleidungsstück in eine rotierende Trommel gegeben. Unter dieser ständigen Belastung werden die Partikelemissionen für 10 Minuten, zu jeder Minute, gemessen. Dabei wird zwischen Partikeln unterschieden, die größer als 3 µm und 5 µm sind. Anhand der im Test bestimmten Emmissionswerte wird die Kleidung in drei Kategorien eingeteilt. Nach allgemeinener Einschätzung können Produkte der Kategorie I in den ISO-Reinraumklassen 1−3 und Produkte der Kategorie II in Reinräumen der Klasse 4−9 verwendet werden. KOPFBEDECKUNGEN / HEADGEAR The Helmke Drum Test, according to IEST-RP-CC003.3, measures the particle emission of garments under very strong mechanical pressure in the dry state. This ensures that, even when in continuous motion, for example by means of the wearer's constant movements, the protective clothing still has a very low particle emission. To perform this test, the garment is placed into a rotating drum. With this continuous motion the particle emissions are measured every minute for a period of 10 minutes. Particles are categorized into ones bigger than 3 microns and ones bigger than 5 microns. Based on the emission values determined in the test, the clothing can be divided into three categories. According to a general assessment products of Category I can be used in ISO-cleanaroom classes 1 to 3, and products of Category II can be used in cleanrooms of Classes 4 to 9. Additional tests: » ISO 10993-5:2009: Prüfungen auf Zytotoxizität – Der Nachweis der Körperverträglichkeit (Biokompatibilität). » ISO 10993-5:2009: Cytotoxicity Tests - Proof of biocompatibility. » EN ISO 3071:2006: Bestimmung des pH-Wertes* des wässrigen Extraktes von Textilien. » EN ISO 3071: 2006: Determination of pH* of aqueous extract of textiles. » EN ISO 105-E04: Farbechtheitsprüfungen – Teil E04: Farbechtheit gegen Schweiß. » EN ISO 105-E04: Color fastness tests - Part E04: Color fastness against sweat. » EN 14362: Verfahren für die Bestimmung bestimmter aromatischer Amine aus Azofarbstoffen. » EN 14362: Method for the determination of certain aromatic Azine-colored amines. * Der pH-Wert liegt im hautfreundlichen, schwachsauren Bereich zwischen 6,5 bis 6,7: erreicht diesbezüglich sogar die Produktklasse I nach Öko-Tex Standard 100, Textilien für Babys. * The pH is in the skin-friendly, weak acidic range between 6.5 to 6.7: meeting the standards, even the product class I according to Oeko-Tex Standard 100, textiles for babies. Bewährte Modelle & Farben Established Designs and colors DACH Schutzbekleidung GmbH & Co. KG Rotackerstraße 21 | 76437 Rastatt | Germany + 49 7222 15989-0 + 49 7222 15989-22 info@dach-germany.de www.dach-germany.de Connect with us
Open the catalog to page 1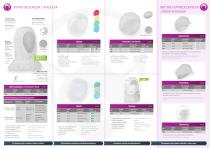 KOPFBEDECKUNGEN / HEADGEAR WEITERE KOPFBEDECKUNGEN / MORE HEADGEAR Hohe Luftdurchlässigkeit: Erhöht die Trageakzeptanz Spezielle Flexzone: Garantie für freie Sicht bei jeder Bewegung High air permeability: Increasing wearer acceptance Special Flexzone: Guaranteeing clear view with every movement Detail: Nylonnetz / Nylonet Optimale Kragenlänge: Perfekt mit anderer Schutzkleidung kombinierbar REF Detail: PP-Vlies / Nonwoven Optimal collar length: For perfect fit in combination with other protective clothing Größe Size Verpackung Packaging Größe Size Verpackung Packaging Farbe Colour Code »...
Open the catalog to page 2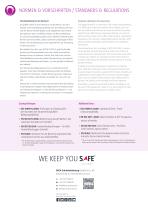 NORMEN & VORSCHRIFTEN / STANDARDS & REGULATIONS Schutzbekleidung für den Reinraum Protective clothing for the cleanroom Die größte Gefahr für einen Reinraum ist der Mensch, der darin arbeitet. Durch jede Bewegung werden von der Kleidung, der Haut und den Haaren Partikel abgelöst und aufgewirbelt. Keine Verhaltensregel kann davor so effektiv schützen wie Reinraumkleidung. Für solche Schutzbekleidung gibt es keine offiziellen Anforderungen, Normen oder Vorschriften, jedoch zahlreiche unabhängige Prüfmethoden, die Schutzkleidung auf ihre Tauglichkeit für die Anwendung im Reinraum testen. The...
Open the catalog to page 3
All DACH Schutzbekleidung catalogs and technical brochures
Compare up to 10 products