Catalogs

>

Deka

>

Synchro HP
Catalog excerpts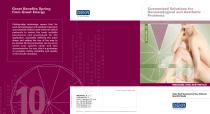 Customised Solutions for Dermatological and Aesthetic Problems Cutting-edge technology means that, for each dermatological and aesthetic treatment your physician follows state-of-the-art clinical protocols to select the most suitable parameters and wavelength for the application, accurately defining the pulse shape and setting the size of the area to be treated. All the parameters can be set to match your specific needs and skin characteristics. For you, this is a guarantee of complete safety, reliability and quality of the results obtained. tfi DEKA M.E.L.A. s.r.l. Via Baldanzese,17 50041 Calenzano (FI) - Italy Tel. +39 055 8874942 Fax +39 055 8832884 info@dekalaser.com www.dekalaser.com For more information, please contact Tailor Each Treatment to Your Patients' Specific Needs n order to improve its products the company reserves the right to modify these specifications without prior notice.
Open the catalog to page 1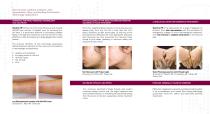 Hair removal, capillary problems, skin rejuvenation: three outstanding Dual Switch Technology applications POWERFUL AND TRULY VERSATILE TECHNOLOGY YOU CAN TRUST THE EXCELLENCE OF THE RESULTS DERIVES FROM THE TAILORING OF EACH TREATMENT Synchro HP utilizes one of the most efficacious and versatile Nd:YAG laser sources. Unrivalled, even for removing fine, fair hairs, it is particularly effective in stimulating collagen fibres in anti-age skin treatments. At the same time it is also effective on dark phototypes and larger-gauge blood vessel lesions. From thin, superficial blood vessels to more...
Open the catalog to page 2
All Deka catalogs and technical brochures

Archived catalogs

Compare up to 10 products