Catalogs

>

Dentium

>

rainbow Brushing Liquid Leaflet_1412 1412
Catalog excerpts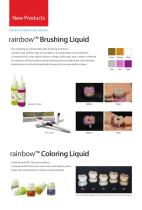 New Products Dentium Dental Lab System rainbow™ Brushing Liquid Fine detailing by implementing the brushing technique Solution Type and Pen Type are available to accommodate user's preference Comprised of six color options (brown, orange, white, grey, pink, violet) to enhance the esthetics of the prosthesis and a diluting solution to adjust the color intensity Brushed area is easily distinguishable through the incorporated food dyes Solution Type rainbow™ Coloring Liquid Coloring liquid for Zirconia prosthesis Comprised of the five most commonly used dipping colors Deep color penetration to...
Open the catalog to page 2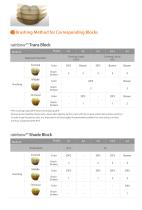 Brushing Method for Corresponding Blocks rainbow™ Trans Block Shade Brush Strokes Brush Strokes Brush Strokes * DP3: Coloring Liquid DP3, Brown: Brushing Liquid-B · Remove excess liquid by wiping with a tissue after dipping, lay the crown with the occlusal surface facing down and dry it · In order to get the precise color, it is important to dry thoroughly. Recommended condition for oven drying is at least one hour at approximately 90°C rainbow™ Shade Block Shade Method Shade Block Brush Strokes Brush Strokes Brush Strokes
Open the catalog to page 3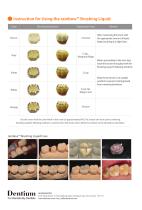 Instruction for Using the rainbow™ Brushing Liquid Color Brushing Instruction Application Area After moistening the brush with the appropriate amount of liquid, begin brushing at a slight slant. Cusp, Marginal Ridge Before proceeding to the next step, wash the brush thoroughly with the Brushing Liquid-T (Diluting Solution). Cusp Keep the brush tip in an upright position to prevent coloring liquid from smearing elsewhere. Cusp Tip Ridge Crest Dry the crown with the color finish in the oven (at approximately 90°C) for at least one hour prior to sintering. Brushing Liquid-T (Diluting Solution)...
Open the catalog to page 4
All Dentium catalogs and technical brochures
Archived catalogs

Compare up to 10 products