Catalogs

>

825 Weighbridge App
Catalog excerpts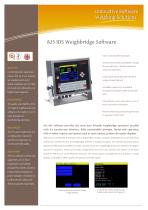 825 IDS Weighbridge Software Up to 6 customisable ID prompts Touchscreen interface and QWERTY keypad for easy data entry. Ideal for manned or unmanned operations. Our ISO 9001:2008 registration ensures that all of our products Easily export report data with USB Stick using on-board USB port quality standards and are fully Incredible connectivity as standard including 4 serial ports, Ethernet and USB highly trained engineers. ports Each indicator can be stand alone or one of many networked workstations VW range of weighing scales and software is the result of over 25 Remote monitoring and reporting from any manufacturing experience. RELIABILITY The VW range is built to last. We use high quality components and will not compromise on material and build quality. SOLUTIONS All of our software is written and supported by our in-house 825 IDS Software provides the most user friendly weighbridge operation possible with it's touchscreen interface, fully customisable prompts, layout and operation, USB or online reports and options such as card readers, printers & remote displays With up to 6 customisable ID prompts (such as Registration, Product, Customer, Destination etc.) and a full colour touchscreen interface the 825 IDS Weighbridge software is designed to gather all required transaction data as quickly and efficiently as possible to provide a smooth, hassle free weighbridge transaction whether the bridge is manned or unmanned. Tickets can be easily configured for clear print outs and full excel reports can be downloaded via USB stick or via an Ethernet connection. The system support all peripherals such as printers, remote displays, card readers, ANPR Cameras, IP Cameras and Traffic Lights. programmers and carefully managed from initial conception to final commissioning by our project managers. This allows us to offer software solutions for almost any project requirement. Truck recall screen on the 825 Weighbridge Software. Create IDs for Trucks, Products, Jobs, Hauliers and custom IDs if required.
Open the catalog to page 1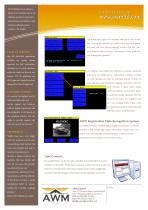 The flexibility of our software allows us to customise any of our software systems to your exact requirements and interface with 3rd party software, please contact us for details. For further information visit: ||Reports menu includes our quality system Upload transactions .csv format file to USB pen drive. Full transaction reports are available and can be sent to the user via USB (downloaded on a USB stick using the onboard USB port), SMS Text, HTML (webpage), Email or FTP. The software features clear on-screen instructions to help guide the user through the operation. approval for Self...
Open the catalog to page 2
All Detecto Scale catalogs and technical brochures

Compare up to 10 products