Catalogs

>

TruTrace 4
Catalog excerpts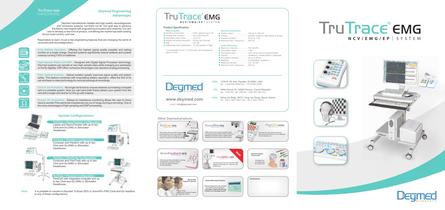 Deymed Engineering Deymed manufactures reliable and high-quality neurodiagnostic and neurocare systems, but that's not all. Our goal was to advance the field to new heights with engineering innovation and creativity. Our aim was to develop a new kind of product, something the market has been looking for but could not find, until now. Read below to learn of just a few engineering features that are changing the world of Fully Battery Operated - Offering the highest signal quality possible and lasting months on a single charge, Deymed systems significantly reduce artifacts and outside noise by running 100% on batteries. High Sample Rates and DSP - Designed with Digital Signal Processor technology, Deymed systems can sample at very high sample rates while changing any parameter on the fly digitally. DSP offers numerous advantages over standard analog processing. Fiber Optical Isolation - Optical isolation greatly improves signal quality and patient safety. This feature combined with long-lasting battery operation, offers the first of its can and best-in-class technology for neurophysiological recordings. Click N' Go Portability - No longer be forced to choose between purchasing a hospital cart or a portable system. Now you can have both! Easily detach your system from the cart with a single click and be on-the-go with a laptop. Always On Impedance - Always-on impedance monitoring allows the user to never have to wonder if the electrode impedances are out of range durring a recording. One of the many advantages of high sampling and DSP processing. System Configurations TruTrace + NeuroTraveler Configuration: Laptop and NeuroTraveler with up to two TruTrace + FlexiArm Configuration: Computer and FlexiArm with up to two TruTrace + FlexiTrolly Configuration: Computer and FlexiTrolly with up to two TruTrace + FlexiCart Configuration: FlexiCart with integrated computer and up It is possible to connect a Deymed TruScan EEG or SomniPro PSG Click-and-Go headbox NCV/EMG/EPI SYSTEM Product Specification: • Analog sampling frequency... 50 kHz per channel • Differential Input Impedance.. 10 GÛ parallel to 35pF * In bandwidth 0.5 Hz -10 KHz with Input Impedance Electrical Stimulator: Audio Stimulator: email: info@deymed.com EU: Velky Drevic 91, 54934 Hronov, Czech Republic Asia: Dong Jin Bldg., #373; Yang Jae Dong, Seoul, Korea Other Deymed products: Technically advanced EEG system buft for demanding clinical and research im The system can be configured as a (ptttHUt, clinical or long term monitoring station, Offers advanced polysomnography tests including long-term digital video monitoring, Additional channels may be added when combined with the Truscan EEG system. FlexGEG" Hotter Compact multi-use Holter and Clinical EEG system that allows for full non-tethered Clinical grade Neurofeedback system designed for clinicians wishing Introducing the all new Deymed rTMS Magnetic Stimulator for research and Deymed Original Complete line Award Winning Products: Deymed Diagnostic was awarded "European Patient Monitoring Product Line Strategy Award"
Open the catalog to page 1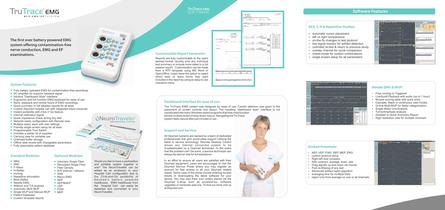 NCV/EMG/EPI SYSTEM The first ever battery powered EMG system offering contamination-free System Features: • Fully battery operated EMG for contamination-free recordings • DC amplifier for superior baseline signal • Intuitive "Dashboard Style" interface • Ergonomie and full function EMG keyboard for ease of use • Store, playback and review hours of EMG recordings • Quick summary or full detailed reports for all tests • Custom Deymed hospital cart with integrated silent computer • Instant portability with Click n' Go feature • Internal calibration signal • Quick impedance check during any...
Open the catalog to page 2
All DEYMED Diagnostic catalogs and technical brochures
Archived catalogs
Compare up to 10 products