Catalogs

>

Urania
Catalog excerpts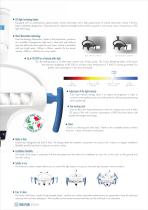 LED light technology leader Equipped with an extraordinary optical system, Urania illuminates with a high quality beam of natural white light. Urania is the first lamp completely designed by Calzavara and it inherits knowledge that has been acquired in over twenty years of experience in LED light technology. Direct illumination technology Direct technology illumination, thanks to the Fresnel lens, produces an incredibly homogeneous light and a clear and well defined spot that effectively illuminates the work area. Urania is available with two bright spots: 180mm x 80mm, specific for the dental...
Open the catalog to page 2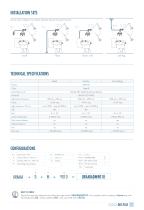 INSTALLATION SETS Mounts and/or adapters to be ordered separately. Request the specific brochure. chair unit TECHNICAL SPECIFICATIONS Dental Accordance with 93/42 EEC Medical devices directive Light beam dimension Colour temperature Ultra violet radiation Infrared radiation Life cycle Application field Chair unit Dermatology (Wood lamp) HOW T O OR D E R Specify the required configuration by adding the single articles. URANIADM9010 is the complete code for ordering a Urania lamp with: dental light beam (D) - ceiling installation (M) - white colour RAL 9010 (9010).
Open the catalog to page 3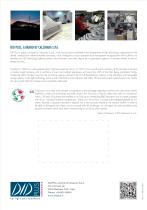 DID PLUS, A BRAND BY CALZAVARA S.P.A. DID Plus is, today, a brand by Calzavara S.p.A. It has always been committed to the development of high technology components for the dental, medical and industrial markets and today it has undergone a major operation and management reorganization which allows it to develop new LED technology lighting systems, new kinematic arms and, above all, to guarantee support to Customers thanks to ad hoc design services. Founded in 1966 as a sole proprietorship, Calzavara became S.p.A. in 1979. From a small artisan company of the seventies it became a...
Open the catalog to page 4
All D.I.D. Dental Instrument Design S.r.l. catalogs and technical brochures
Compare up to 10 products