Catalogs

>

REVISION HIP: R E INVENTED
Catalog excerpts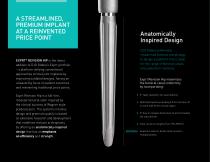 A STREAMLINED, PREMIUM IMPLANT AT A REINVENTED PRICE POINT EXPRT® REVISION HIP is the latest addition to DJO Global's Exprt portfolio - a platform-defying conventional approaches to total joint implants by improving outdated designs, having an unwavering focus on patient outcomes and reinventing traditional price points. Exprt Revision Hip is a full-line, modular femoral stem inspired by the clinical success of Wagner style predecessors. The system's intuitive design and premium quality is based on extensive research and development that redefines revision arthroplasty by offering an...
Open the catalog to page 2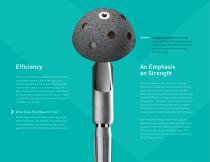 Acetabular options include shells with proprietary P 2 in-growth coating, HXe+ polyethylene and BIOLOX® delta and CoCr femoral heads ranging from 22-44mm. Efficiency Cadaveric and design of experiment studies were conducted to enable a high level of accuracy and reproducibility of the implant seating height relative to the depth of the reamed canal.1 The Exprt® approach to streamlining was applied and the result is an unmatched, 2 tray revision system – an 80-90% reduction in instruments compared to competitive systems.2,3 What Does That Mean for You? The Exprt Revision Hip consists of...
Open the catalog to page 3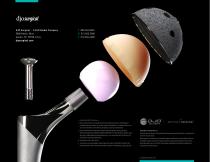 DJO Surgical | A DJO Global Company 9800 Metric Blvd Austin, TX 78758 U.S.A. djosurgical.com 1. Data on file at DJO - PR16-030-01. 2. http://www.zimmer.com/content/dam/zimmer-web/documents/en-US/pdf/surgicaltechniques/hip/zmr-revision-hip-system-surgical-technique.pdf – Accessed February 2017. 400+ Instrument SKUs in the ZMR Set compared to 39 for Exprt Revision Hip. 3. http://www.biomet.com/wps/wcm/connect/internet/c99ee315-9006-4509-9dc39ef8ea17ebaa/BOI04631.pdf?MOD=AJPERES&CONVERT_TO=url&CACHEID=c99ee315-90064509-9dc3-9ef8ea17ebaa Accessed February 2017. 200+ Instrument SKUs in the Arcos...
Open the catalog to page 4
All Djo Surgical catalogs and technical brochures

Compare up to 10 products