Catalogs

>

MAMMOGRAPHY SOLUTIONS
Catalog excerpts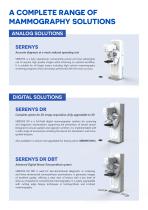 A COMPLETE RANGE OF MAMMOGRAPHY SOLUTIONS ANALOG SOLUTIONS SERENYS Accurate diagnosis at a much reduced operating cost SERENYS is a fully operational, conveniently priced unit that radiologists use to acquire high quality images while achieving an optimal workflow. It is suitable for all breast exams including high volume mammography screening programs which are always performed with the most accuracy. DIGITAL SOLUTIONS SERENYS DR Complete system for 2D image acquisition, fully upgradable to 3D SERENYS DR is a full-field digital mammography solution for screening and diagnostic examinations...
Open the catalog to page 2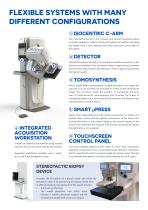 ® integrated acquisition workstation Simplify and optimize the workflow using intuitive solutions that can be customized by the operator. Separated workstation available with a standalone anti-X half transparent screen. ® isocentric c-arm The motorized isocentric C-Arm (rotation and vertical movement) allows all breast projections without moving the patient and without adjusting the height of the C-Arm, making exams faster and more comfortable for the patient. ® detector Indirect Amorphous silicone (a-Si) and direct amorphous selenium (a-Se) detectors are available. The a-se detector allows...
Open the catalog to page 3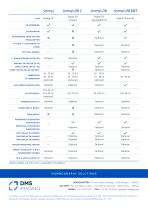 This product is a Class IIb medical device manufactured by Metaltronica. The conformity assessment was carried out by IMQ, n°0051 and therefore bears the CE marking. It is intended for mammographs. Read the operating instructions carefully. Photos are non-contractual. BrochureA_SERENYS_Series_02 01/21 mammography solutions
Open the catalog to page 4
All DMS Imaging catalogs and technical brochures

Compare up to 10 products