Catalogs

>

DonJoy

>

MaxTrax
Catalog excerpts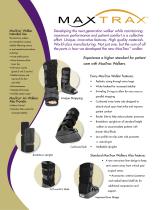 Developing the next generation walker while maintaining maximum performance and patient comfort is a collective effort. Unique, innovative features. High quality materials. World-class manufacturing. Not just one, but the sum of all the parts is how we developed the new MaxTrax™ walker. MaxTrax™ Walker Intended Use The MaxTrax walkers are intended to increase stability following trauma or post-operative procedures including: • Acute ankle sprains Experience a higher standard for patient care with MaxTrax Walkers. lower leg • Soft tissue injuries (grade 2 and 3 sprains) • Stable fractures...
Open the catalog to page 2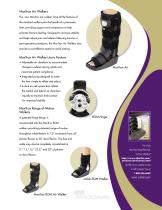 MaxTrax Air Walkers The new MaxTrax Air walkers have all the features of the standard walkers plus the benefit of a pneumatic liner, providing support and compression to help promote fracture healing. Designed to increase stability and help reduce pain and edema following trauma or post-operative procedures, the MaxTrax Air Walkers also provide a cost-effective option to serial casting. MaxTrax Air Walker Liners Feature: • Adjustable air chambers to accommodate changes in edema during rehab and maximize patient compliance • Integrated pump designed to make the liner simple to inflate and...
Open the catalog to page 3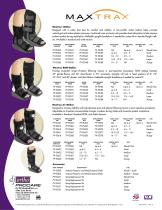 MaxTrax™ Walker Designed with a wider foot bed for comfort and stability. A low–profile, rocker bottom helps promote natural gait and reduce plantar pressures. Cushioned inner and outer sole provides shock absorption to help improve patient comfort during ambulation. Malleable uprights breakdown if needed for custom fit on standard height walkers. Available in standard and ankle version. STANDARD WALKER REPLACEMENT LINER ANKLE WALKER REPLACEMENT LINER MALE SHOE SIZE FEMALE SHOE SIZE JUNIOR SHOE SIZE XSmall, Ped. Small Medium Large XLarge Provides protected range–of-motion following trauma...
Open the catalog to page 4
All DonJoy catalogs and technical brochures

Compare up to 10 products