Catalogs

>

DonJoy

>

UltraSling® ER
Catalog excerpts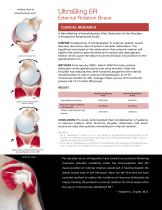 Axillary View of Glenohumeral Joint External Rotation Brace CLINICAL RESEARCH A New Method of Immobilization After Dislocation of the Shoulder: 1 A Prospective Randomized Study. Labral and capsular tear Purpose To determine if immobilization in external rotation would decrease recurrence rates of anterior shoulder dislocations. The hypothesis was based on the observation that external rotation will tighten the anterior glenohumeral joint capsule and subscapularis tendon which causes the labrum to be forced back into position on the glenohumeral rim.2 METHODS From January 2000 – March 2002...
Open the catalog to page 2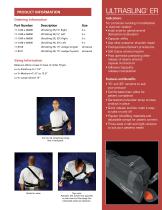 PRODUCT INFORMATION Ordering Information Part Number UltraSling ER, 15° wedge (single) Sizing Information Measure elbow crease to base of index finger. x= 2 = Small=up to 11.0" x= 3 = Medium=11.0" to 13.0" x= 4 = Large=above 13" For protocols involving immobilization in external rotation • nitial anterior glenohumeral I dislocation/subluxation • apsular shifts C • se after posterior shoulder repair U • ostoperative Bankart procedures P • Soft tissue strains/repairs • ost operative positioning after P release of severe anterior capsule contracture • dhesive Capsulitis A release/manipulation...
Open the catalog to page 3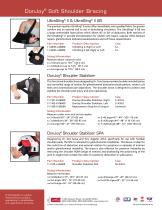 DonJoy ® Soft Shoulder Bracing UltraSling® II & UltraSling® II AB The premium quality UltraSling® II series offers breathable, extra padded fabric for greater comfort and an exercise ball to aid in stimulating circulation. The UltraSling® II AB has a large comfortable foam pillow which allows 45° or 60° of abduction. Both versions of the UltraSling® II provide immobilization for rotator cuff repairs, capsular shifts, Bankart repairs, glenohumeral dislocations/subluxations and soft tissue repairs/strains. Part Number Product Description UltraSling II, Right or Left UltraSling II AB, Right or...
Open the catalog to page 4
All DonJoy catalogs and technical brochures

Compare up to 10 products