Catalogs

>

DSI

>

LabChart_brochure
Catalog excerpts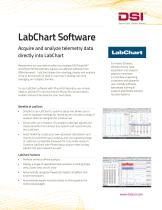 Better Data. Better LabChart Software Acquire and analyze telemetry data directly into LabChart Researchers are now able to collect and analyze DSI PhysioTel™ and PhysioTel HD telemetry signals via LabChart software from ADInstruments. LabChart allows the recording, display and analysis of up to 32 channels of data in real time, including real-time averaging on multiple channels. To use LabChart software with PhysioTel telemetry, you simply need a LabChart Pro license and the PhysioTel Connect device enabler and you'll be ready for your next study. Benefits of LabChart • Simple to use: LabChart is quick to setup and allows you to control hardware settings for recording and includes a range of analysis features designed for intuitive use. • Grows with your research: It's simple to add new signals and measurements from almost any system and record directly into LabChart. • Great flexibility: Create your own advanced calculations and macros to customize your analysis, and use a growing range of LabChart-compatible hardware for truly novel research. Combine LabChart with PowerLab to acquire other analog signals into your research as well. LabChart Features • Perform online or offline analysis • Display a range of specialized View windows including Scope View, Zoom View and XY View • Automatically recognize PowerLab models, amplifiers and smart transducers • Automatically export recorded values to other graphical or statistical packages For nearly 30 years, ADInstruments' data acquisition and analysis products have been successfully supporting customers with powerful user-friendly software, specialized training & support, and flexible solution focused systems.
Open the catalog to page 1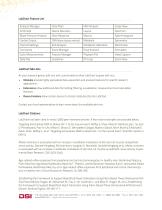 LabChart Feature List LabChart Add-Ons As your research grows, add-ons and customizations allow LabChart to grow with you. • Modules provide highly specialized data acquisition and analysis features for specific research applications. • Extensions allow additional data formatting, filtering, visualization, measurement and calculation features. • Device Enablers allow certain devices to stream data directly into LabChart. Contact your local representative to learn more about the available add-ons. LabChart Citations LabChart has been cited in nearly 3,000 peer-reviewed articles. A few recent...
Open the catalog to page 2
All DSI catalogs and technical brochures

Compare up to 10 products