Catalogs

>

Film developing
Catalog excerpts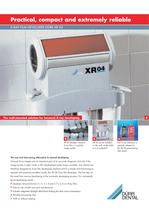 Practical, compact and extremely reliable X-RAY FILM DEVELOPER DÜRR XR 04 The wall-mounted solution for intraoral X-ray developing XR 04 develops intraoral X-ray films in a perfect image quality. XR 04 can be installed on the wall, on the table or in a cupboard. The cost and time-saving alternative to manual developing Intraoral X-ray images are an important part of an accurate diagnosis, but only if the image quality is right. Faults in film development make X-rays unusable. Dürr Dental has therefore designed an X-ray film developing machine which is simple and time-saving to operate and produces excellent results, the XR 04 X-ray film developer. The first step on the road from manual developing to the automatic developing process. For consistently good developing results. Develops intraoral format 2 x 3, 3 x 4 and 2.7 x 5.4 cm X-ray films Easy to use, simple care and maintenance Includes integrated daylight attachment making the dark room unnecessary Variable processing time With or without heating Dürr X-ray chemistry is specially adapted to the XR 04 guaranteeing best results.
Open the catalog to page 1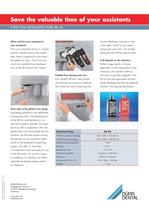 Save the valuable time of your assistants X-RAY FILM DEVELOPER DÜRR XR 04 What could be more important to can be effortlessly removed in only your assistants? a few steps, which for you means Time is an important factor in a dental saving time and costs, and actively practice: patients have to be looked taking the load off the practice team. after, there is paperwork to be done, the telephone rings – fine if one can It all depends on the chemistry. count on a reliable X-ray developer, Perfect image quality is always such as the XR 04 from Dürr Dental. dependent on the composition of the...
Open the catalog to page 2
All Dürr Dental catalogs and technical brochures

Compare up to 10 products