Catalogs

>

Second Stage Reducers
Catalog excerpts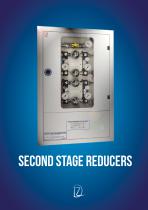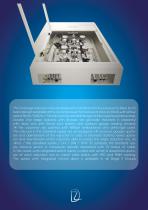 The multi standard emergency unit is to innovative line pressure to mobile The 2nd stage reducers units are designed antransform themulti-standard8 bar (or 10 unit for back-up purposes in case of malfunction or failure of medical gas bar) making it available at the correct pressure for final use at 4 bar (or 8 bar), with a flow distribution s ystems, for air and instrumental nitrogen) inducing a departments rate of 35m3 / h (42 mc / hin hospitals and e specially in c ritical low pressure drop. Double 2nd theaters, intensive care). It is a medical device – CE marked in (operating stage...
Open the catalog to page 2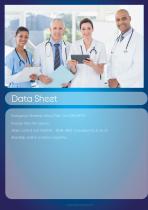 Technical Data Data Sheet Emergency Terminal: Afnor/Nist/Uni/DIN/HTM Two Medical Eurorail Inox Two Separate and isolate areas Porosity filter: 90 microns Two 14lt oxygenSELETEC - SDAL-MED in models V4, L5, L5, L9 and medical air cylinders Alarm control unit: 15 mc/h oiless vacuum pump with filtration system and trap Assembly: wall or outdoor carpentry Materials: Aluminum frame, carpentry with patented antibacterial treatment. Outlets: 6 medical gas outlets, two for Oxygen, Two for air, two for vacuum (DIN standard/French standard/HTM standard/NIST standard/UNI standard, or combined)...
Open the catalog to page 3
All DZ Medicale catalogs and technical brochures

Compare up to 10 products