Catalogs

>

CuratOR SC430-PTR
Catalog excerpts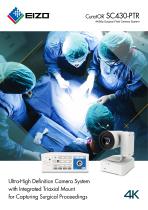 Output Terminals Camera Head and Mount: 162(W) x 211.5(H) x 198(D) mm (with cable cover) Camera Control Unit: 212(W) x 87.5(H) x 270(D) mm (without projection and rubber feet) Camera Head and Mount: 3.1 kg (with cable cover) Net Weight Camera Control Unit: 2.9 kg Camera Mount: 100 x 100 mm Hole Spacing Operating Temperature Camera Head and Mount: 0 - 40℃ Camera Control Unit: 0 - 40℃ 20 - 80%RH Operating Humidity IEC60601-1, CE, CB, FCC-A, CAN ICES-3 (A), RoHS, Certifications & WEEE Standards Supplied Accesssories AC adapter, AC power cord (2 m), Camera cable (25 m), IR remote, Rubber feet x 4, ND filter, Close-up lens, Cable cover, Thread-locking fluid, Instructions for Use, Quick Reference 2 Years Warranty Remote Control Power Requirements Maximum Power Consumption Dimensions Camera Control Unit (CCU) Video Format 1500 mm (throughout the zoom range) 1000 mm (with Close-up lens) 72 mm Auto, Manual Auto, Manual +/-170 deg. +90 / -30 deg. +/-165 deg. 8.6 - 0.05 deg/s, 7 steps 8.6 - 0.05 deg/s, 7 steps 30 - 0.2 deg/s, 7 steps Yes Auto Level Control (ALC), Center Weighting Metering, BT.2020 Emulation, White Balance, Sharpness Auto, Manual (0 - 45 db) [59.94 Hz output] 1/60 - 1/10000 [50 Hz output] 1/50 - 1/10000 Normal, Flip HDMI: 2160/59.94p, 2160/50p SDI: 2160/59.94p, 2160/50p HDMI: 1080/59.94p, 1080/59.94i, 1080/50p, 1080/50i SDI: 1080/59.94p, 1080/59.94i, 1080/50p, 1080/50i HDMI x2, BNC (Quad Link 3G-SDI), BNC (3G-SDI), Audio LAN, RS-232C, IR remote DC 24 V (bundled AC adapter) 55 W Camera Head and Mount Gain Shutter Speed 1/2.5 type CMOS, single chip type 3840 x 2160 Optical 30x motorized zoom 4.6 (W) - 135 (T) mm 68 (W) - 2.6 (T) deg. Features & Functions Image Sensor Effective Pixels Zoom Focal Length (f=) Horizontal Field of View (HFOV) Minimum Object Distance (M.O.D.) Filter Diameter Focus Control Iris Control Pan Range Tilt Range Roll Range Pan Speed Tilt Speed Roll Speed Built-in microphone Image Control Camera Head 4K/60p Surgical Field Camera System Accessory The Ideal Cable for Compact Environments A 3 meter camera cable for connecting the SC430-PTR Camera Head to the Camera Control Unit (CCU). The short length is perfect for compact environments where the camera and CCU are positioned near each other, to eliminate surplus cable length. Short Camera Cable for Surgical Field Camera System You will find your EIZO contact partner at: All product names are trademarks or registered trademarks of their respective companies. EIZO, the EIZO Logo, and CuratOR are registered trademarks of EIZO Corporation. Specifications are subject to change without notice. Copyright © 2019 EIZO Corporation. All rights reserved. (181105C) Ultra-High Definition Camera System with Integrated Triaxial Mount for Capturing Surgical P
Open the catalog to page 1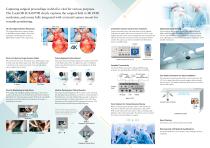 Capturing surgical proceedings in detail is vital for various purposes. The CuratOR SC430-PTR clearly captures the surgical field in 4K UHD resolution, and comes fully integrated with a triaxial camera mount for versatile positioning. Convenient Camera Control from Anywhere 2160 Obstruction-Free Viewing Camera movement, focus, and white balance can be adjusted using the front panel of the Camera Control Unit (CCU), or the supplied wireless remote control. Additionally, the CCU panel and optional wired remote control come with a joystick for intuitive control. The camera can also be...
Open the catalog to page 2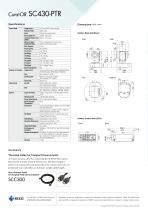 Specifications Dimensions (Unit : mm) Camera Head Camera Head and Mount Front Side Bottom Camera Control Unit (CCU) Front 212- Side 18 43 AccessoryThe Ideal Cable for Compact Environments A 3 meter camera cable for connecting the SC430-PTR Camera Head to the Camera Control Unit (CCU). The short length is perfect for compact environments where the camera and CCU are positioned near each other, to eliminate surplus cable length. Short Camera Cable for Surgical Field Camera System You will find your EIZO contact partner at: www.eizo-or.com/contact All product names are trademarks or registered...
Open the catalog to page 3
All EIZO Corporation catalogs and technical brochures

Compare up to 10 products