Catalogs

>

1371
Catalog excerpts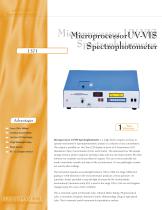 Year Warranty Microprocessor UV/VIS Spectrophotometer is a single beam compact and easy to operate instrument for Spectrophotometric analysis of a solution of any concentration. The output is available on 16x2 line LCD display in terms of % Transmission (%T), Absorbance (Abs), Concentration (Cone) and K Factor. This instrument has 100 sample storage memory, printer output for printing of data with any dot matrix printer. RS-232C Interface for computer can be provided on request. The use of microcontroller has made it extremely versatile and state-of-the art instrument. 10 mm pathlength cuvettes are used to take readings. The instrument operates at wavelength between 190 to 1000 nm range. Diffraction grating of 1200 lines/mm in the monochromator produces a linear spectrum. An automatic shutter provided to stop the light increases the life of photodiode tremendously. Deuterium lamp (D2) is used in the range 190 to 350 nm and Tungston Halogen lamp (W) covers 350 to lOOOnm. This is extremely useful in Chemistry Labs., Mineral Water Testing, Pharmaceutical Labs., Universities, Hospitals, Research Centres, Biotectnology, Drugs & Agricultural Labs. This is extremely useful instrument for quantitative analysis.
Open the catalog to page 1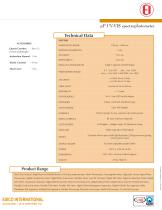 ACCESSORIES Quartz Cuvettes : Set of 2 (10mm pathlength) Instruction Manual : 1 No. Product Range_J- Semi Auto Analyser, Single Beam and double Beam UV/VIS Spectrophotometer, Flame Photometers, Haemoglobin Meter, Digital pH, Meter, Digital Photo Fluorometer, Digital Conductivity Meter, Digital Photo Colorimeter, Turbidity Meter, Auto KF Titrimeter, Digital DO Meter, Digital Conductivity Meter, Digital TDS Meter, Temperature Indicator, Digital Telethermometer, Water & Soil Analysis Kit, Digital Salinity Meter, Digital Colony Counter, Portable pH Meter, Portable Conductivity Meter, Portable...
Open the catalog to page 2
All Electronics India catalogs and technical brochures

Compare up to 10 products