Catalogs

>

ERGO-FIT

>

ERGO CARDIO LINE 400
Catalog excerpts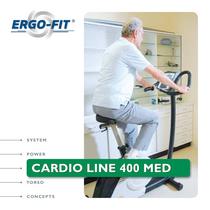 The multifunctional STRESS TABLE ECHO 100 MED is the combination of an adjustable examination couch and a tiltable ergometer. It allows for non-invasive cardiological diagnostics and all conventional ultrasonic examinations. The latest knowledge in sports medicine was taken into account when developing STRESS TABLE ECHO 100 MED and special attention was devoted to a high technical standard and customer friendly ease of use. Display WHO-level test Training programmes MANUAL, PROFILES (5 fixed, 1 variable) Interfaces RS 232 Adjustment height of seat, head and neck pad, pelvis pad Colours silver-grey, powder-coated Optional equipment q ua li WATT, I/MIN, TIME, DIST., KCAL, K/MH Test programmes n graphical Display parameters n a g e me paper roll holder, shoulder support, Exhaustive quality management system Medical products • EN ISO 13485 • Guideline 93/42/EEC, Annex II saddle support, pedal top parts space saving because it may also be used as an examination couch without ergometer Safety standard IEC 601-1 (EN 60601-1), protection class I, degree of protection type B Device standard DIN VDE 0750/238, DIN 31001 multiple adjustabilities for optimal examination conditions EMC guidelines 2004/108/EC: IEC 601-2 (EN 60601-1) Med. classication 93/42/EEC: device class IIa continously tiltable in 2 levels via remote control Declaration Medicine brake system eddy current brake fully electronic eddy current brake Supply voltage 230 V / 50 Hz Power consumption ergometer 0,3 A Power consumption of autom. adjustment 0,8 A Moment of inertia Technical and optical modifications as well as misprints reserved The multifunctional bed for examination and ergometry STRESS TABLE ECHO 100 MED ma t STRESS TABLE ECHO 100 MED ty 11+/- 2 kg /m² special table for mechanical stress echocardiography by tiltable ergometer cockpit with only 4 keys for simple handling Dimensions ( l / w / h cm ) 230/95/120 (height of table 75) manually adjustable stress and five predefined profiles, an individually programmable user profile and a preset modifiable WHO profile to choose from Weight Approx. 220 kg Speed range 20 – 120 rpm Power range 15 – 400 W suitable for connection of ECG equipment for documentation Accuracy 5W Max. user's weight 150 kg Remarks variable adjustability lying surface tiltable, horizontally +/- 20°, vertically +/- 40° the patient may easily control himself by rotation speed display at eye level tiltable ergometer S YS T E M P OW E R CARDIO LINE 400 MED neck rest ERGO-FIT GmbH & Co. KG Blocksbergstraße 165 – D- 66955 Pirmasens / Germany Phone: +49 6331 2461-0 – Fax: +49 6331 2461-55 – info@ergo-t.de – www.ergo-t.de October 2011 cutout on the left side for optimal positioning of an ultrasonic scanner head TO R S O CONCEPTS
Open the catalog to page 1

CARDIO LINE 400 MED Quality and perfection for the practice Professional technology for diagnosis and therapy CARDIO LINE 400 MED has been developed especially for professional purposes: It allows for targeted exercise of the cardio vascular system, including precise training control and reliable performance diagnosis, as well as diagnosis and therapy of cardio vascular diseases. n a g e me q ua li ma n t For almost four decades, ERGO-FIT products are part of the basic equipment of rehabilitation hospitals, physio and medic practices. And this is for a good reason: They are the equivalent...
Open the catalog to page 2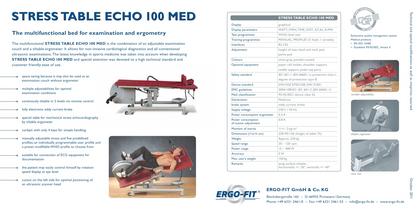 The multifunctional STRESS TABLE ECHO 100 MED is the combination of an adjustable examination couch and a tiltable ergometer. It allows for non-invasive cardiological diagnostics and all conventional ultrasonic examinations. The latest knowledge in sports medicine was taken into account when developing STRESS TABLE ECHO 100 MED and special attention was devoted to a high technical standard and customer friendly ease of use. Display WHO-level test Training programmes MANUAL, PROFILES (5 fixed, 1 variable) Interfaces RS 232 Adjustment height of seat, head and neck pad, pelvis pad Colours...
Open the catalog to page 3
All ERGO-FIT catalogs and technical brochures
Archived catalogs

Compare up to 10 products