Catalogs

>

Ergotron

>

LifeKinnex Power System
Catalog excerpts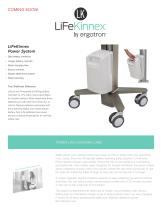 COMING SOON! © LiFeKinnex by ergotron LiFeKinnex Power System • Safe battery chemistry • Longer battery cycle life • Quick charging time • Easy to connect • Simple attachment system • Patent pending The LiFeKinnex Difference Lithium Iron Phosphate (LiFePO4) battery chemistry or LiFe offers many advantages for hospital systems. Most importantly, these batteries are safer than the Lithium Ion or Lithium Polymer batteries associated with the publicized laptop and mobile phone battery fires. LiFe batteries have lower thermal runaway temperatures to minimize safety risks. POWER LIFE-CHANGING CARE capers- Safely power your medical carts to last longer so they're ready when you need them most. Using Lithium Iron Phosphate battery chemistry (LiFe), Ergotron's LiFeKinnex Power System charges carts quickly without the risk of overcharging or overheating associated with other battery types. Designed for multiple workflows, the power system allows caregivers to plug in the unit to quickly charge the cart, even during use, or use the optional LiFeKinnex 4-Bay Charger to keep the cart moving with a hot swap. A unique magnetic alignment feature supports an easy swapping process to minimize downtime. You can easily monitor current battery runtime with a LCD screen mounted on the cart or with a light bar on the battery. The system complements the sleek look of modern documentation carts without adding bulk, and the flexible design works to adapt existing carts in an ever-changing IT world. It's all about providing the safety and reliability needed to power life-changing care.
Open the catalog to page 1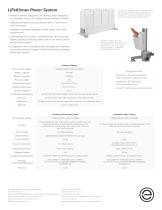 LiFeKinnex Power System • A built-in battery keeps the unit running when swapping out batteries, and a LCD display shows available runtime • Attaches directly to the cart column with a T-slot mount and four screws • Available worldwide meeting country power and outlet requirements • User-friendly LCD screen, mounted to the cart or monitor, clearly displays remaining battery life in real time to avoid service interruptions • Compatible with cloud-based fleet management software to provide real-time insights into the health of your battery and power system LiFeKinnex Battery COMING SOON: APAC...
Open the catalog to page 2
All Ergotron catalogs and technical brochures

Compare up to 10 products