Catalogs

>

Flexi-Flange
Catalog excerpts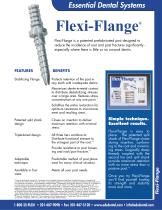 Essential Dental Systems Flexi-Flange is a patented prefabricated post designed to reduce the incidence of root and post fractures significantly especially where there is little or no coronal dentin. FEATURES Stabilizing Flange. BENEFITS Protects retention of the post in any tooth with inadequate dentin. Maximizes dentin-to-metal contact to distribute destabilizing stresses over a large area. Reduces stress concentrations at any one point. 1-2 Solidifies the entire restoration for optimum resistance to micromovement and resulting wear. Patented split shank design. Closes on insertion to deliver maximum retention with minimal stress. Simple technique. Excellent results. Triple-tiered design. All three tiers combine to: Distribute functional stresses to the strongest part of the root. Provide resistance to post loosening and root/post fracture. 8-10 Adaptable technique. Predictable method of post placement for every clinical situation. Available in four sizes. Meets all your post needs. 1 Cohen BI, Musikant BL, Deutsch AS. "Comparison of the Photoelastic Stress for a Split-Shank Threaded Post Versus a Threaded Post." J Prosthodontics 1994;3:53-55. 2 Cohen BI, Condos S, Musikant BL, Deutsch AS. "Pilot Study Comparing the Photoelastic Stress Distribution for Four Endodontic Post Systems. J Oral Rehabilitation 1996;23:679-685. 3 Greenfeld RS, Royhouse RH, Marshall FJ, Schoner, B. "A comparison of Two Post Systems Under Applied Compressive Shear Loads". J of Prosth Dent, 1989;61:17-24.4 Ross RS, Nicholls JI, Harrington GW, . "A Comparison of Strains Generated during Placement of Five Endodontic Posts", J Endodontics 1991;17:450-456. 5 Millstein PL, Yu H, Hsu CS, Nathanson D. "Effects of Cementing on Retention of a Prefabricated Screw Post." J Prosth Dent 1987;57:171-174. 6 Brown JD, Mitchem JC. "Retentive Properties of Dowel Post System." Operative Dentistry 1987;12:15-19. 7 Cohen BI, Pagnillo M, Condos S, Deutsch AS. "Comparison of the Torsional Forces at Failure for Seven Endodontic Post Systems. J Prosthet Dent 1995;74(4):350-7. 8 Cohen, BI, Deutsch, AS, Musikant, BL. "Cyclic Fatigue Testing of Six Endodontic Post Systems." J Prosthodontics. 1993;2:28-32. 9 Cohen BI, Pagnillo MK, Newman I, Musikant L, Deutsch AS. Pilot study of the cyclic fatigue characteristics of five endodontic posts with four core materials. J Oral Rehabil 2000;27:83-92. 10 Cohen BI, Musikant BL, Deutsch AS. "Clinical usage of the Flexi-Flange post system." Dental News 1995;Vol. II (III):33-36. US Patent Nos. 4,480,997, 4,490,116, and Re. 31,948. Other Foreign Patents Pending. Flexi-Flange is easy to place. The patented split shank of Flexi-Flange closes during insertion, conforming to the root and minimizing stress. Surgically sharp threads coupled with the second tier and split shank provide maximum retention with no more stress than a passive post.1-7 Once you try Flexi-Flange you'll find yourself trusting its strength and stability more and more.
Open the catalog to page 1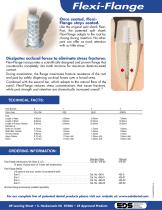 Flexi-Flange Once seated, FlexiFlange stays seated. Like the original split shank FlexiPost, the patented split shank Flexi-Flange adapts to the root by closing during insertion. No other post can offer as mush retention 1-7 with so little stress. Dissipates occlusal forces to eliminate stress fractures. Flexi-Flange incorporates a scientifically designed and proven flange that countersinks completely into tooth structure for maximum dentin-to-metal contact. During mastication, the flange maximizes fracture resistance of the root and post by safely dispersing occlusal forces over a broad...
Open the catalog to page 2
All ESSENTIAL DENTAL SYSTEMS catalogs and technical brochures

Compare up to 10 products