Catalogs

>

Flexi-Flow
Catalog excerpts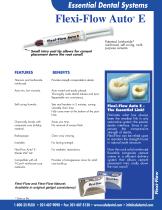 Essential Dental Systems Patented, lanthanide* reinforced, self curing, multipurpose cements. Small intra oral tip allows for cement placement down the root canal! Titanium and lanthanide reinforced. Auto mix, low viscosity. Self curing formula. Chemically bonds with composite core buildup material. Radiopaque. Insoluble. BENEFITS Provides strength comparable to dentin. Auto mixed and easily placed. Thoroughly coats dental tubules and post. Repeatable mix consistency. Sets and hardens in 5 minutes, saving valuable chair time. Fully cures even at the bottom of the posthole. Saves you time. No removal of excess flash. Clear x-ray viewing. For lasting strength. Eliminate what has always been the weakest link in any restorative system: the post-to-dentin interface. Since it surpasses the compressive strength of dentin, Flexi-Flow can be relied upon to maintain the strength found in natural tooth structure. Now this rock solid reinforced flowable composite cement comes in a efficient delivery system that allows cement placement intra orally down the root canal! Flexi-Flow Auto® E - For aesthetic restorations. Shade Vita® A2. Compatible with all Provides a homogeneous mass for solid Ti-Core® reinforced core core build-up. Flexi-Flow and Flexi-Flow Natural: Available in original gel/gel consistency!
Open the catalog to page 1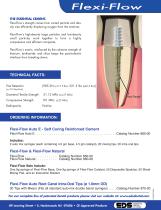 flow profile_flow profile 1/21/13 9:55 AM Page 2 Flexi-Flow THE ESSENTIAL CEMENT. Flexi-Flow's strength comes from varied particle and density size efficiently displacing oxygen from the matrices. Flexi-Flow's high-density large particles and low-density small particles work together to form a highly compressive and efficient composite. Flexi-Flow's matrix, reinforced by the cohesive strength of titanium, lanthanide, and silica keeps the post-to-dentin interface from breaking down. TECHNICAL FACTS: Post Retention Diametral Tensile Strength Compressive Strength ORDERING INFORMATION:...
Open the catalog to page 2
All ESSENTIAL DENTAL SYSTEMS catalogs and technical brochures

Compare up to 10 products