Catalogs

>

Flexi-Overdenture
Catalog excerpts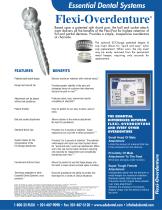 Essential Dental Systems Based upon a patented split shank post, the ball and socket attachment delivers all the benefits of the Flexi-Post for highest retention of full and partial dentures. Provides a simple, inexpensive overdenture at chairside. The optional EZ-Change patented keeper & cap insert allows for "quick and easy" nylon cap replacement. When worn, the cap insert may be easily removed from the permanent metal keeper, requiring only seconds for replacement. BENEFITS 1-7 Delivers maximum retention with minimal stress. Flange and second tier. Provides greater stability of the post and dissipates forces of occlusion that otherwise fracture the post or root.8-9 Attachment can be placed without lab assistance. Produces quick, easy, economical results 10 completely at chairside. Easy for patient to use: easy to place, easy to clean. Ball and socket attachment. Allows rotation of the denture attachment. No need for parallelism. Provides 3 to 5 pounds of retention. Easily 11-12 replaced at low cost with in-office procedure. System allows for the incorporation of the EZ-Change attachment. Provides 3 to 5 pounds of retention. The patented metal keeper and nylon cap insert system allows for "quick and easy" nylon cap replacement. When worn, this cap may be easily removed, requiring only seconds for replacement and considerably shortening chair time.11-12 THE ESSENTIAL DIFFERENCES BETWEEN FLEXI- OVERDENTURE AND EVERY OTHER OVERDENTURE Small Head Of Male Attachment Limits the amount of material that has to be removed from the denture. Proximity Of Male Attachment To The Root Minimizes stresses under function. Countersink drill/root facer. Technique adaptable to other Essential Dental Systems' post products.* Allows the dentist to seat the flange deeper into the tooth in cases where occlusal space is limited. Gives the practitioner the ability to perfect one technique for a variety of clinical situations. 1Cohen, B.I., Musikant, B.L., Deutsch, A.S. Comparison of retentive properties of four post system. J. Prosthet Dent. 1992;68:264-8. 2Filiz, K, Erdal, S. Retentive properties of three post-core systems. Australian Dental Journal 1994;39:(1):20-24. 3 Cohen, B.I., Musikant, B.L., Deutsch, A.S. Comparison of the photoelastic stress for a split-shank threaded post versus a threaded post. Journal of Prosthodontics 1994;3:53-55. 4 Greenfeld RS, Royhouse RH, Marshall FJ, Schoner, B. "A comparison of Two Post Systems Under Applied Compressive Shear Loads". J. of Prosth. Dent., 1989;61:17-24. 5 Millstein PL, Yu H, Hsu CS, Nathanson D. "Effects of Cementing on Retention of a Prefabricated Screw Post." J. Prosth. Dent. 1987;57:171-174. 6 Ross, RS, Nicholls JI, Harrington, GW. A comparison of strains generated during placement of five endodontic posts. Journal of Endodontics. 1991;17:450-456. 7 Brown JD, Mitchem JC. "Retentive Properties of Dowel Post System." Operative Dentistry, 1987;12:15-19. 8 Cohen, BI, Deutsch, AS, Musikant, BL. "Cyclic Fatigue Testing of Six Endodontic Post Systems." J. of Prosthodontics. 1993;2:28-32. 9 Cohen, BI, Condos, S, Deutsch, AS, Musikant, BL. "Cyclic Fatigue of Seven Endodontic Post Systems." J. of Dent.Research. 1993;Abstract #1616:305. 10Musikant, B.L., Cohen, B.I., Deutsch, A.S. Replacement Insert Makes Denture and Post Connection Easier. Dentistry Today. 1995;14(11):116-117. 11Cohen BI, Musikant BL, Pagnillo M, Condos S, Deutsch AS. Comparative study of two precision overdenture attachment designs. J Prosthet Dent 1996;76(2):145-152. 12Leung, T, Preiskel, HW. Retention Profiles of Stud-Type Precision Attachments. International Journal of Prosthodontics. 1991;4:175-179. Super Tough Female Attachment Incorporates easily into the denture or metal keeper for maximum retention. Replaces easily after long wear. Prevents harmful impact when placed over male attachment. Absorbs the stresses of occlusion. Adapts simply into the denture without lab work.
Open the catalog to page 1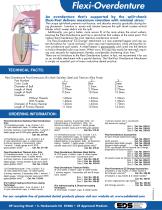 Flexi-Overdenture EZ-Change Metal Keeper EZ-Change Nylon Cap Patented Split-Shank Combines Highest Retention with Minimal Insertional Stress An overdenture that's supported by the split-shank 1-7 Flexi-Post delivers maximum retention with minimal stress. The unique split-shank prevents root fracture, and absorbs stress by gradually closing dur- ing placement. Insertion is easier and cleaner because the split shank creates vertical blades which sweep debris into the split. Additionally, you get a better, more secure fit at the area where the canal widens, because the Flexi-Overdenture post...
Open the catalog to page 2
All ESSENTIAL DENTAL SYSTEMS catalogs and technical brochures

Compare up to 10 products