Catalogs

>

Tango-Endo ™ Instruments
Catalog excerpts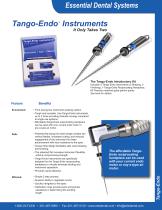 Essential Dental Systems Includes: 6 Tango-Endo Instruments (3 Shaping, 3 Finishing), 1-Tango-Endo Reciprocating Handpiece, 60 Precision matched gutta percha points. See back for details. Benefits • Time saving two instrument shaping system. • Tough and reusable. Use Tango-Endo instruments up to 3 times providing dramatic savings compared to single use systems. • Affordable Tango-Endo reciprocating handpiece can be used with your current endo motor or any e-type air motor. • Patented flat along the entire length creates two vertical blades, increased cutting, and reduced engagement of the instrument for faster advancement with less resistance to the apex. • Unique flute design facilitates safe canal shaping and finishing. • The patented flat increases instrument flexibility without compromising strength. • Tango-Endo Instruments are specifically designed for the Tango-Endo reciprocating handpiece to virtually eliminate binding and instrument separation. • Prevents canal distortion. The affordable TangoEndo reciprocating handpiece can be used with your current endo motor or any e-type air motor. • Simple 2 step process. • Superior ability to negotiate curves. • Quickly navigates to the apex. • Calibration rings provide quick and precise assistance in determining the working length.
Open the catalog to page 1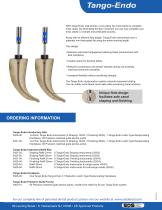 Tango-Endo With Tango-Endo Instruments, it only takes two instruments to complete most cases. By eliminating the fear of fracture you can now complete your endo cases in a simple and predicable process. Along with an efficient flute design, Tango-Endo instruments have a patented non-interrupted flat along the entire working length. This design: • Reduces instrument engagement allowing faster advancement with less resistance. • Creates space for dentinal debris. • Reduces compressive and tensile stresses during use enabling improved instrument durability. • Increased flexibility without...
Open the catalog to page 2
All ESSENTIAL DENTAL SYSTEMS catalogs and technical brochures

Compare up to 10 products