Catalogs

>

Ti-Core Flow Plus
Catalog excerpts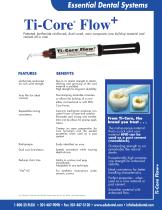 Ti-Core* Flow+ Patented, lanthanide reinforced, dual cured, resin composite core build-up material and cement all in one! FEATURES BENEFITS Lanthanide reinforced for rock solid strength Auto Mix for ideal viscosity Repeatable mixing consistency. Due to its similar strength to dentin, ditching and grooving of the core material is avoided. High strength for long term durability. Non-slumping stackable consistency allows the build-up of a core either via free-hand or with EDS Core Forms. Auto-mix mechanism produces consistent fusion of base and catalyst. Eliminates pad mixing and transfer. Intra oral tip allows for precise application. Creates an easy preparation for core formation and the perfect properties when used as a post cement Radiopaque Easily identified on x-ray. Dual cure formulation Speeds procedure while insuring Reduces chair time Ability to contour and prep immediately. Adaptable to any technique. Vita® A2 For aesthetic restorations under ceramic crowns From Ti-Core, the brand you trust . . . The multi-purpose material that's a rock solid core material AND can be used as a post cement (monoblock). Outstanding strength to cut remarkably like natural dentin. Exceptionally high compressive strength for enhanced stability. Ideal consistency for better handling characteristics. Perfect properties - when used as a core material or post cement. Smoother material with enhanced flow. Ti-Core Flow+ *U.S. Patent Nos. 5,034,433 and 5,204,398. European Patent No. EP 0 631 598 B1. Other patents pending.
Open the catalog to page 1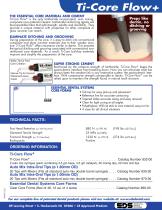 Ti-Core Flow+ THE ESSENTIAL CORE MATERIAL AND CEMENT Ti-Core Flow+ is the only lanthanide incorporated, auto mixing, composite core material/cement. Lanthanide reinforcing agents are biocompatible fillers that add strength, solidity and durability. They provide a unique material with properties no other composite or glass ionomer can match. Preps like dentin, no ditching or grooving ELIMINATE DITCHING AND GROOVING During preparation of the core, it is easy to ditch into conventional composite and glass ionomer materials due to their weaker structure. Ti-Core Flow+ offers resistance similar...
Open the catalog to page 2
All ESSENTIAL DENTAL SYSTEMS catalogs and technical brochures

Compare up to 10 products