Catalogs

>

Ladylift®
Catalog excerpts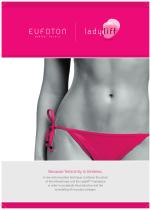 EUFOTOfl medical lasers Because femininity is timeless. A new and innovative technique combines the action of the infrared laser and the Ladylift™ handpiece in order to accelerate the production and the remodeling of mucosa's collagen.
Open the catalog to page 1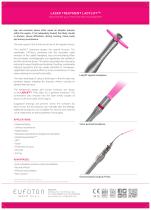 LASER TREATMENT LADYLIFT™ Improvement up to 70% from the first treatment* Age and muscular stress often cause an atrophic process within the vagina. If not adequately treated, this likely results in dryness, sexual difficulties, itching, burning, tissue laxity and urinary incontinence. The main cause of this is the loss of tone of the vaginal mucosa. The Ladylift™ treatment targets the vaginal mucosa. The wavelength (1470nm), combined with the controlled, radial emission of the Ladylift handpiece, has a bio-modulating effect that stimulates neocollagenesis and regenerates the epithelium and...
Open the catalog to page 2
All Eufoton® Medical Lasers catalogs and technical brochures

Archived catalogs
Compare up to 10 products