Catalogs

>

LASEmaR® 2000
Catalog excerpts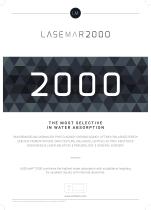 THE MOST SELECTIVE I N WAT E R A B S O R P T I O N SKIN REMODELING: WRINKLES*, PHOTO-AGING*, CHRONO-AGING*, LIFTING*, ENLARGED PORES* UNEVEN PIGMENTATIONS: SKIN TEXTURE, MELASMA, LENTIGO, ACTINIC KERATOSIS ENDOVENOUS LASER ABLATION | PNEUMOLOGY | GENERAL SURGERY LASEmaR® 2000 combines the highest water absorption with subablative targeting for excellent results with minimal downtime. www.eufoton.com * Treatments that, not being associated to diseases, are not in compliance with CE0476.
Open the catalog to page 1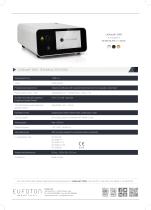 LASEmaR® 2000 is available in SILVER, BLACK and GOLD. • © Laser Diode (GaAs) Preselected programmes Advanced software with experienced protocols to be manually customized Pulse duration (Ton - Toff) Adjustable from 1 to 9000 msec - steps 1 ms Number of pulses per sequence From 1 to 100 - step one (single and pulsed mode) Interval between pulse sequence Adjustable 1 ms e 10 sec (pulsed mode) Operation mode Single pulse mode, Pulsed mode, Continuous mode Cooling system Air cooling system combined with Peltier's Cells Absorbed power 300 VA peak (adapted to domestic electric standard)...
Open the catalog to page 2
All Eufoton® Medical Lasers catalogs and technical brochures

Archived catalogs
Compare up to 10 products