Catalogs

>

LASEmaR® 500
Catalog excerpts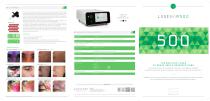 RANDOM PATH For major areas (as decollété and cheeks) it is possible to use the fractional scanner, where the linear or random scanning mode is very important because it permits to work almost in all the cases without anaesthesia. As in ablative lasers the distance between the single fractional spots of green colour on the skin is percentually controlled so that the phototermolitic heating is limited and consequently not painful. The result is an extremely accurate operation, rapid and efficient, in order to not create side effects as hyperpigmentations, hypopigmentations or even scars. When the fractional scanner is used, it is necessary to choose the percentage of covering for the treated zone, variable from a minimum of 10% to a maximum of 40% of density. The fractional scanner permits to treat extended both vascular applications (as plan angiomas and PWS) and dermoaesthetics (photorejuvenation*, fine wrinkles*, microectasias, epidermal pigmentation, enlarged pores*, red stretchmarks*, scars, keloids, acne in active phase). The result of photorejuvenation can be seen from the first treatment and the improvement continues also at the end of the whole cycle of treatments (3-5 following months) thanks to the creation of new collagen and the immediate reduction of the pigmented lesions. It is possible to treat different areas: face, neck, hands, abdomen, chest. LASEmaR® 500 is available in SILVER, BLACK and GOLD. LASEmaR® 500 - TECHNICAL FEATURES ADVANTAGES Dimension and density adjustable by the user. Linear or random scanning mode. Preselected programmes Advanced software with experienced protocols to be manually customized Pulse duration (Ton-Toff) Adjustable from 1 to 9000 msec - steps 1 ms Number of pulses per sequence Setting of impulses/fluency variable and possibility to repeat the impulse (stucking) EPC - Effective Pulse Control, maximization of the concept of selective photocoagulation for oxyhemoglobin and melanin (selective superficial and bloodless treatments). (single and pulsed mode) LIGHTSCAN TREATMENTS PSW - PORT WINE STAINS: Before - after Interval between pulse sequence PHOTOREJUVENATION: Before - after (pulsed mode) Operation mode Cooling system Air cooling system combined with Peltier's Cells Aiming beam Electrical power Absorbed power 300 VA peak (adapted to domestic electric standard) In compliance with FLAT ANGIOMAS: Before - after Single pulse mode - Pulsed mode - Continuous mode ACTIVE ACNE: Before - after IEC 60601-1 IEC 60601-1-2 IEC 60601-2-22 IEC 60825-1 Weight and dimensions Production ERYTHROSIS ROSACEA: Before - after T H E D E L I C AT E L A S E R TO ERASE SKIN'S IMPERFECTIONS VASCULAR LESIONS | PIGMENTED LESIONS | SKIN BENIGN LESIONS SCARS, KELOIDS AND STRETCH MARKS | PHOTOREJUVENATION | DENTISTRY LASEmaR® 500 is the gold standard in the treatment of pigmented and vascular skin lesions, due to its extremely high absorption by oxy-haemoglobin and melanin. VASCULAR AND REJUVENATION: Before - after For more information about applications and accessories of LASEmaR® 500, scan the QR - code with your tablet or smartphone. Eufoton Srl Via Flavia 23/1 - 34148 Trieste - Italy Ph. +39 040 9899082 - Fax +39 040 9890555 www.eufoton.com - info@eufoton.com Before and after photographs used in this brochure are courtesy of: A. Agolzer MD, D. Cassuto MD, A. Crippa MD, O. Marangoni MD, L. Scrimali MD, F. Zini MD. * Treatments that, not being associated to diseases, are not in compliance with CE0476.
Open the catalog to page 1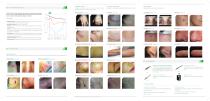 PIGMENTED LESIONS Freckles, Dermatosis, Cafè au lait stains, Papulosis nigra, Hyperkeratotic lesions, Poikiloderma of Civatte. DERMOSURGERY Couperose, Spider veins, Fibromas, Xantelasma. CUT WOUND: Before - after XANTELASMAS: Before - after KERATOSIS: Before - after LENTIGO: Before - after ABDOMINOPLASTY SCAR: Before - after KERATOSIS: Before - after RHINOPHYMA: Before - after SCATTERED HYPERPIGMENTATIONS: Before - after LASEmaR® 500 is the gold standard in the treatment of superficial and vascular skin lesions. Its diode of green wavelength (532nm) represents the maximum absorption by...
Open the catalog to page 2
All Eufoton® Medical Lasers catalogs and technical brochures

Archived catalogs
Compare up to 10 products