Catalogs

>

LASEmaR® 800
Catalog excerpts
VASCULAR APPLICATIONS LASEmaR® 800 combined with different Flebolaser kit permits the treatment of: Extra - saphenous veins (truncal and reticular) PHLEBOLOGY ACCESSORIES LASEmaR® 800 is available in with the endoperivenous method* Leg Teleangectasias VARIABLE FOCUS HANDPIECE ZOOM 800 SILVER, BLACK and GOLD. Transdermal treatments of superficial and thin spider veins. Vascular malformations (deep as well) LEG TELANGECTASIAS: Before - after Ulcers and sores cleansing and debridement. LASEmaR® 800 - TECHNICAL FEATURES MULTI-THERAPY HANDPIECE FLEBOLASER FIBERS Single use and reusable for extra saphenous veins treatment. 808 nm High Power Diode (GaAs) Preselected programmes RETICULAR VEINS: Before - after Photobiomodulation of venous ulcers. Advanced software with experienced protocols to be manually customized Pulse duration (Ton – Toff) Adjustable from 1 to 9000 msec - steps 1 ms Number of pulses per sequence Adjustable from 1 to 100 – step one (single and pulsed mode) Interval between pulse sequence (pulsed mode) ENDOVENOUS THERAPY KIT ULCERS AND WOUNDS: Before - after VEIN TRANSILLUMINATORS For mapping and visualization of vessels before and during the laser treatment. Operation mode Single pulse mode - Pulsed mode - Continuous mode Cooling system Air cooling system combined with Peltier's Cells Aiming beam With various lengths (needle introduction, guide wire insertion, placement catheter with calibration, laser fiber lock). Electrical power Absorbed power 300 VA peak (adapted to domestic electric standard) POLARIZED LIGHT HELMET FLEBOLASER PROCEDURE To see approximately 1 mm under skin surface. For a perfect vision of ectasia and pigmentations. T H E P O RTA B L E L A S E R FOR MANY NEEDS DERMATOLOGY | ACNE | VASCULAR TREATMENTS | HAIR REMOVAL ENDOLIFT | PHOTOREJUVENATION | LASER THERAPY | BLEACHING PLASTIC | MICROLIPOSCULTURE | ILT ON DERMAL FILLERS COMPLICATIONS LASEmaR® 800 is a laser platform designed by Eufoton for different medical and surgical indications. Lasers in Phlebology. O. Marangoni MD, L. LONGO MD, Trieste Edizioni Goliardiche – www.lasersinphlebology.com Endovenous 808-nm Diode Laser Occlusion of Perforating Veins and Varicose Collaterals: A Prospective Study of 482 Limbs. L.Corcos, D.Pontello, D.De Anna, For more information about applications and accessories of LASEmaR® 800, scan the QR - code with your tablet or smartphone. S.Dini, T.Spina, V.Barucchello, F.Carrar, B.Elezi, F.Di Benedetto, Dermatol Surg; The 810-nm diode laser. A good wave as an alternative to the superficial VM treatment. A preliminary report. G.Vercellio, G.Carella, V.Danesino, M.G.Bordoni; 2011. Eufoton Srl Via Flavia 23/1 - 34148 Trieste - Italy Ph. +39 040 9899082 - Fax +39 040 9890555 www.eufoton.com - info@eufoton.com Before and after photographs used in this brochure are courtesy of P.A. Bacci MD, D. Cassuto MD, A. Crippa MD, M. Izzo MD, O. Marangoni MD, A. Ponti MD, L. Scrimali MD, G. Vasilescu MD.
Open the catalog to page 1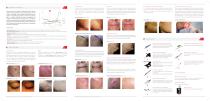 HAIR REMOVAL ILT ON DERMAL FILLERS COMPLICATIONS HIGH LEVEL LASER THERAPY - HLLT In addition to the classical method for selective phototermolysis It is a new mini-invasive technique used to boost skin restructuring*. ILT - Intralesional Laser Therapy for granulomas caused by filler The very well known wavelength of 808 nm in association with high (ideal on fair skin phototyipe or dark hair), LASEmaR ® 800 can Thanks to this method it is possible to create a subcutaneous grid injections. The treatment ILT evacuates most of the granuloma power emission mode makes LASEmaR® 800 available to...
Open the catalog to page 2
All Eufoton® Medical Lasers catalogs and technical brochures

Archived catalogs
Compare up to 10 products