Catalogs

>

MECHANICAL LEAD EXTRACTION
Catalog excerpts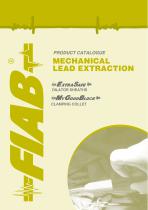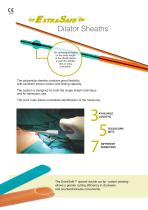 Dilator Sheaths The radiopaque marker on the entire length of the sheath allows a clear RX visibility and an easy orientation. The polyamide sheaths combine great flexibility with excellent torsion control and sliding capacity. The system is designed for both the single sheath technique and for telescopic use. The color code allows immediate identification of the measures. AVAILABLE LENGTHS TELESCOPIC SETS DIFFERENT DIAMETERS The ExtraSafe™ special double cut tip - patent pending allows a greater cutting efficiency in clockwise and counterclockwise movements.
Open the catalog to page 2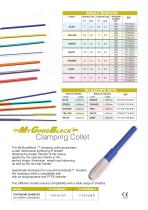 SINGLE SHEATHS Internal size External size Fr Internal sheaths Colour TELESCOPE SETS External sheaths Clamping Collet The MyGoodBlock ™ clamping collet guarantees a safe mechanical tightening of sheath, allowing the proper transfer of the torque applied by the operator thanks to the perfect shape, dimension, weight and balancing as well as the non-slip handle. Specifically developed for use with ExtraSafe™ sheaths, the clamping collet is compatible also with all polypropylene and PTFE sheaths Two different models ensure compatibility with a wide range of sheaths. MODEL TIGHTENING DIAMETER...
Open the catalog to page 3
All FIAB FIAB catalogs and technical brochures
Compare up to 10 products