Catalogs

>

CosyCot? Infant Warming Brochure
Catalog excerpts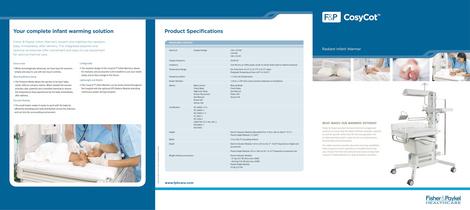 Your complete infant warming solution Product Specifications Fisher & Paykel Infant Warmers rewarm and stabilize the newborn baby immediately after delivery. The integrated bassinet and optional accessories offer convenient and easy-to-use equipment for optimal thermal care. IW930/980 COSYCOT Electrical Supply Voltage Supply Frequency Radiant Infant Warmer 32m W/cm2 at 100% power at 68 cm (26.8) heater grill to mattress distance • While technologically advanced, we have kept the warmers simple and easy-to-use with one-touch controls. • he modular design of the CosyCot™ Infant Warmers allows T for modules and accessories to be installed to suit your needs today and as they change in the future. Temperature Range Set Temp from 34.5°C to 37.5°C in 0.1°C steps Displayed Temperature from 4.0°C to 50.0°C Temperture Alarm Heater Rotation -130 to ± 130° from center position depends on installation Baby Control Check Baby High/Low Temp Sensor Disconnect See Manual Power Fail Sensor Fail Manual Mode Check Baby See Manual Power Fail Sensor Fail Warming Without Delay • he Prewarm Mode allows the warmer to be kept 'baby T ready' without nuisance alarms. When needed the warmer provides safe, powerful and controlled warming to restore the temperature drop experienced by the baby immediately after delivery. • he CosyCot™ Infant Warmer can be easily moved throughout T the hospital with the optional UPS Battery Module providing continuous power during transport. Focused Heating • he small heater makes it easier to work with the baby by T efficiently providing even heat distribution across the mattress and not into the surrounding environment. Cosycot infant warmer What Makes Our Warmers Different Electric Elevator Module Adjustable from 170 to 186 cm (66.9"-73.2") Preset Height Module 172 (68") 185041165 RevH © 2011 Fisher & Paykel Healthcare Limited Depth Electric Elevator Module 110 to 129 cm (43.3"- 50.8") Depends on height and accessories Preset Height Module 103 or 108 cm (41" or 43") Depends on bassinet size Weight without accessories Electric Elevator Module - 67 kg (147 lb) (from June 2008) - 60.8 kg (134 lb) (pre June 2008) Preset Height Module 55 kg (121 lb) Fisher & Paykel provides the best thermal management systems to ensure that the baby's limited metabolic capacity is used for growth rather than for thermoregulation. For an ideal warming system, ease-of-use is as important as functionality and performance. Our infant warmers provide advanced warming capabilities while using one-touch operations to simplify day-to-day use. Choose from the fully featured and easily transported CosyCot™ Infant Warmer for Labor & Delivery and NICU.
Open the catalog to page 1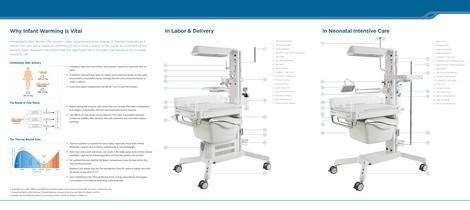 Why Infant Warming is Vital Immediately after delivery the newborn baby experiences some degree of thermal instability as it moves from the warm stable environment of the mother's womb to the cooler environment of the delivery room. Research has shown that any significant fall in the baby's temperature will increase mortality risk1. 1. Short Mounting Pole 2. Gas Accessory Block • A newborn baby has around four times greater capacity to lose heat than an adult. • newborn baby will lose heat via radiant and convective losses to the cooler A environment, evaporative losses through the skin and...
Open the catalog to page 2
All Fisher & Paykel Healthcare catalogs and technical brochures

Archived catalogs
Compare up to 10 products